Rev: November 8, 2021
Past Events
For the latest announcements regarding events, dinner meetings, and news, please visit the SFGI LinkedIn Group or sign up for email updates. Check out our main SFGI webpage for upcoming events.
---
2021
JOINT AEG/SFGI MEETING
2020-2021 JAHNS DISTINGUISHED LECTURER
Cheryl Hapke, PhD
Integral Consulting and University of South Florida – St. Petersburg
"When Mountains Move Roads: Science, Engineering, and Management
along the Big Sur Coast"
Along the Big Sur coastline in central California, the Coast Range descends steeply into the Pacific Ocean, creating one of the most extreme coastal slopes in the coterminous United States. Weak rocks and steep topography provide ideal conditions for frequent large landslides that potentially contribute a substantial portion of material to the littoral sediment budget. Little was known about the sediment budget in this area, including the amount, rate and frequency of sediment input to the system from coastal landslides. Adjacent to the Big Sur coastline is the Monterey Bay National Marine Sanctuary (MBNMS), a protected area of coastal waters and home to a variety of aquatic species.
The California Department of Transportation (Caltrans) needed solutions to the difficulties they face with keeping slide-prone coastal Highway 1 open and safe while minimizing impacts to the MBNMS below the road. As a contribution to developing a highway management plan, and in order to advance the fundamental understanding of landslide and coastal processes along this stretch of coastline, a technique was developed to quantify the historical volume of sediment that enters the littoral system from coastal slope failures.
The technique uses aerial photography and digital photogrammetry to produce 3-dimensional stereo models from which digital terrain models (DTMs) are extracted. The sediment yield varies significantly along the coastline, from as low as 1,000 m3/km/yr to nearly 47,000 m3/km/yr. This variation is largely attributed to differing lithologies of the slope forming materials.
Dr. Cheryl Hapke is a coastal geologist with more than 25 years of experience studying coastal evolution and coastal change processes in a variety of geomorphic settings. Dr. Hapke worked for several decades with the U.S. Geological Survey as a research scientist, and now is a senior consultant in coastal resiliency with Integral Consulting. She also has an appointment as a research professor at the University of South Florida, College of Marine Science. Her current research focuses on coastal vulnerability and sea-level rise adaptation, developing new tools and approaches to evolve the science of coastal hazards. She has authored over 80 peer-reviewed papers, book chapters, and technical reports, and served as a subject matter expert on coastal change hazards to local, state, and federal agencies, and international groups.
VIRTUAL SPECIAL SPEAKER
Professor Timothy D. Stark
Civil and Environmental Engineering
University of Illinois at Urbana-Champaign
Housing Development Case History near San Francisco –
Fill Placement on Franciscan Mélange
A recording of the webinar and the related files are located in this Google Drive folder.
Observations, testing, data, and analyses used to investigate the cause of distress into two housing developments located downslope of a large hillside fill will be presented. The investigation shows the distress in the housing developments was caused by a large and deep bedrock slope failure triggered by the hillside fill placement. In particular, large diameter borings, torsional ring shear testing on the fine-grained portion of the mélange, the complex geologic setting, and the effects of rainfall, surficial grading, home construction, and fill placement on slope stability will be discussed. Finally, the presentation will present eight (8) project management lessons from this important case history.
JULY HAPPY HOUR
SFGI hosted a Happy Hour at Temescal Brewing in Oakland, California. We were ecstatic to network and share some drinks with other local geo-professionals and students in a relaxing environment.
DEEP FOUNDATIONS INSTITUTE TRAVELING LECTURER
David B. Paul, P.E.
2020-2021 DFI Traveling Lecturer
"Emergency Repair to Mosul Dam in Iraq: A High-Risk Dam on a Karst Foundation"
Mosul Dam, on the Tigris River, is the largest dam in Iraq and provides a significant percentage of water for the country. It was constructed on problematic karst geology. The project was an international effort by the governments of Iraq, Italy and the U.S. The risk analysis of Mosul Dam showed that up to 1.5M citizens would be impacted by a catastrophic failure of the dam. This is the highest risk profile of any dam in the world. This context forged the international partnership needed to rapidly address the situation. The initial challenges included public reluctance to accept the risk posed by the dam, financing a project of this scope, establishing a secure area to execute the works, awarding a contract with Italian firm Trevi, and completing a bilateral agreement to commission the U.S. Army Corps of Engineers as the project engineer. From February 2015 to June 2019 emergency repairs were executed to reduce risk of failure.
39th Annual Geosystems Engineering Distinguished Lecture Series
SFGI ASCE and UC Berkeley presented the 39th Annual Geosystems Engineering Distinguished Lecture Series. This year's event took place online on May 7th and featured the following three lectures and a panel discussion:
Prof. Laurie Baise from Tufts University: "Observations and Characterization of Complexity in Site Response"
Prof. Dimitrios Zekkos from UC Berkeley: "Integrated Satellite, UAV and ground-based assessment of landslides: The 2015 M 6.5 Lefkada earthquake in Greece"
Prof. Thomas O'Rourke from Cornell University: "The Next Generation Hazard Resilient Infrastructure"
Following the lectures, we had a panel discussion on "Emerging technologies and opportunities on moving from site-specific to regional analyses and assessment".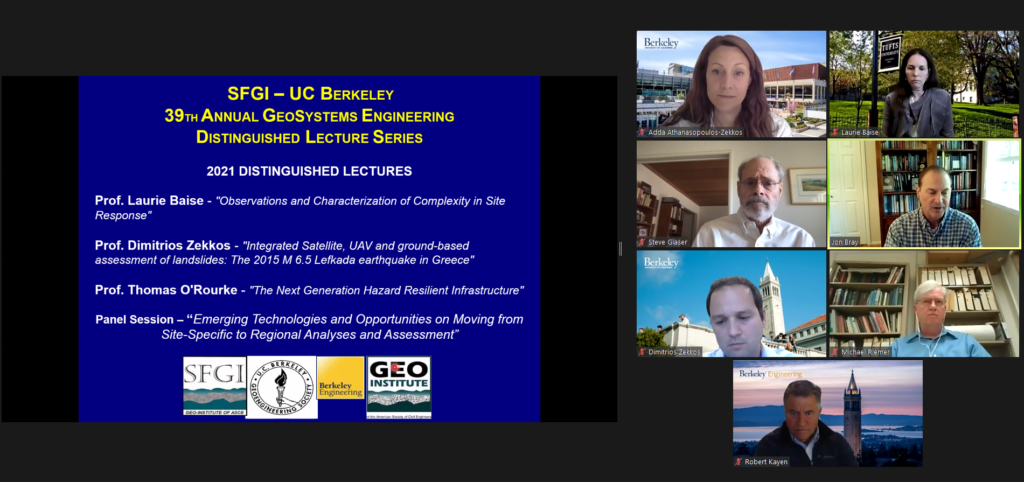 GEOTECHNICAL DIVERSITY PANEL
SFGI hosted a virtual Geotechnical Diversity Panel via Zoom on April 20, 2021. The panel provided insight from a wide range of engineers with diverse backgrounds and from a range of different sectors of the geotechnical engineering industry. These panelist included Adda Athanasopoulous-Zekkos, Ph.D.; Elizabeth Bialek, P.E.; Meredith Long, P.E.; Michelle Shriro, Ph.D., P.E., G.E.; and Ramin Golesorkhi, Ph.D., P.E., G.E. Thank you to the panelists and participants for the engaging discussion!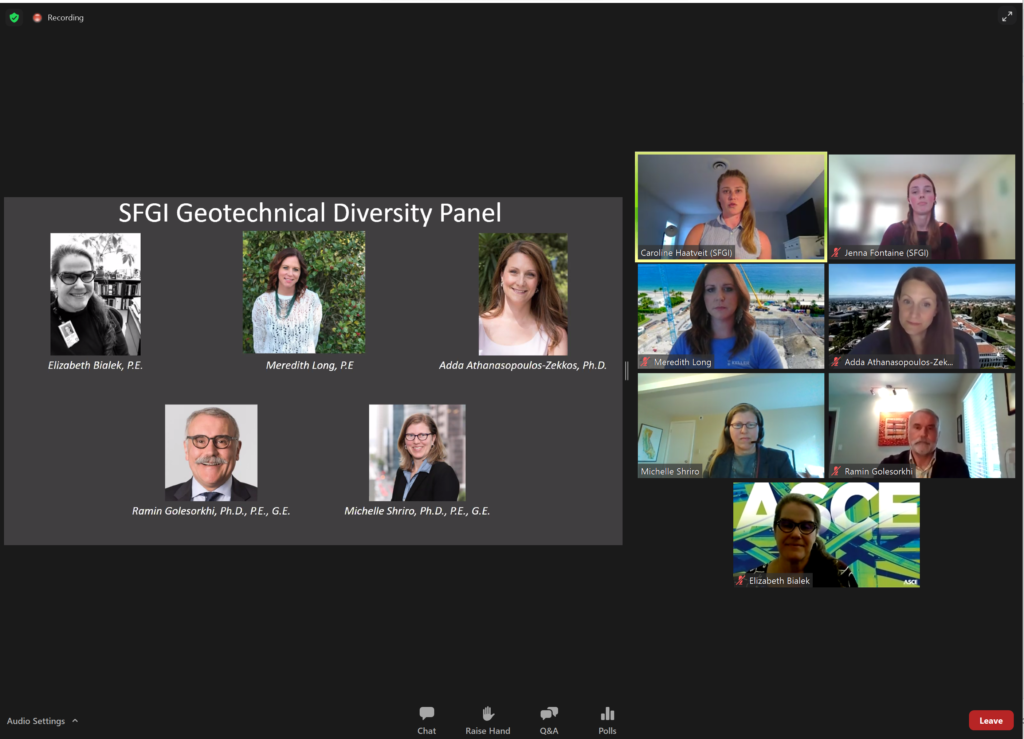 GEOTECHNICAL INSTRUMENTATION AND MONITORING WORKSHOP
SFGI hosted a virtual Instrumentation and Monitoring Workshop via Zoom. The workshop was held across two sessions delivered in February 2021. The two-part workshop was intended to present perspectives from both academia and industry, with the first session delivered by Kenichi Soga (UC Berkeley) and the second session delivered by Paul Thurlow (Geo-Instruments). Workshop attendees were provided an overview of geotechnical instrumentation and monitoring techniques and case histories demonstrating the implementation of these techniques. Thank you both to our speakers, Kenichi Soga and Paul Thurlow!
---
2020
BEST OF 2020 PHOTO CONTEST
Thank you to all participants who submitted photos of their home office setups, new hobbies, pets, and jobsites! Congratulations to all the winners.
Home Office Setup: Sarah Boudreau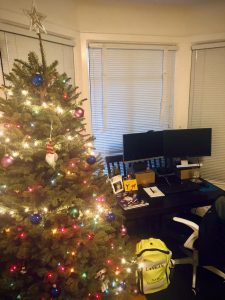 New Hobby (Gardening): Azizul Moqsud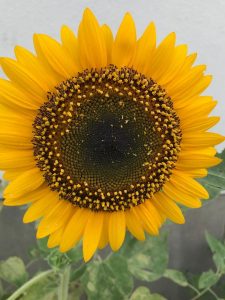 Pet: Joseph Ang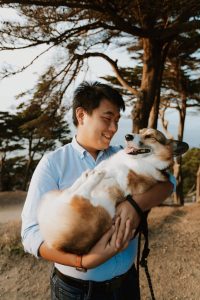 Jobsite (Central Subway): Kenneth Johnson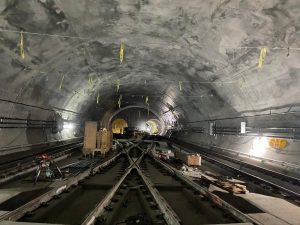 SFGI TRIVIA NIGHT
SFGI hosted its very own first virtual Trivia Night on November 18, 2020. Four teams faced off on geotechnical-related trivia, and one team prevailed. Congratulations to Team Mélange (Nick T., Hannah C., Elizabeth B., and Scott W.) on becoming the Undisputed Geotech Trivia Champions!