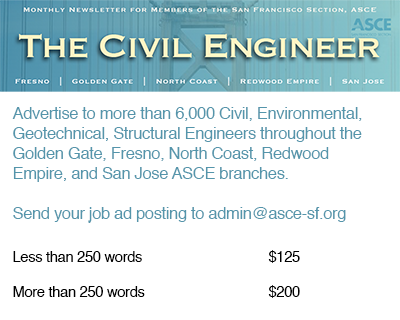 The City of San Mateo Public Works Department is looking for Senior Engineer 
Why Join our Department?  
When you join the Public Works Department, you will work among collaborative and energetic  colleagues who share a passion for serving our San Mateo citizens and improving the community in  which we live and work. Our team is comprised of individuals with diverse talents and experience in  various fields. We will provide you with a wide range of opportunities in a team-based collaborative  environment while helping you achieve your professional goals. Collaboration, Innovation, Respect,  Creativity, Transparency and Informed Risk-taking are attributes within the City's mission, values and  organizational principles that we are seeking in the candidates. 
What You'll Do  
The Public Works Department is responsible for the City's major capital projects and infrastructure  including streets, sidewalks, bridges, street lights, traffic signals, publicly owned parking lots and garages, sewer and storm conveyance systems, wastewater treatment plant, pump stations, a major  lagoon, and dams and levees. The Department is also responsible for efficient management of the City's  traffic operations and review of right-of-way impacts associated with private development. One of the  Department's primary functions is customer service and response to public needs. The Senior Engineer  may be assigned to work in any of these functional areas.  
This invitation is focused on recruiting a Senior Engineer for capital project delivery, including customer  service and asset management elements. Key assignments include leading staff and managing  consultants and contractors in the delivery of complex capital improvements projects in a dynamic  environment with a multitude of stakeholders (internal and external), improving upon processes and  standards to increase efficiencies, ensuring quality work products, and maintaining a sensitivity to  economic, social, and technical issues. In addition, the Senior Engineer assists in preparing and  monitoring operating and capital budgets in connection with assigned programs, contract management,  project site inspections, and development of designs, plans, specifications, and estimates for the  construction of a variety of public works projects. Effective communication skills and the ability to  recognize the interconnectedness of the various disciplines and stakeholders are critical to the success of  this position. This position involves direct supervision of three to six engineering staff, which may  include construction inspectors, engineering technicians, and junior/assistant/associate engineers. 
The City of San Mateo is a very progressive and encourages staff and resident engagement to develop  positive solutions that meet the demands of the community and regulatory landscape. To this end, the  Senior Engineer will help lead efforts utilizing networking skills and developing new strategies and  tactics to accomplish short- and long-term project/program deliveries. The Senior Engineer will be given  the opportunity to provide and participate in critical team leadership undertakings, while utilizing best  practices relative to performance management and team-oriented approaches. As a manager, the Senior  Engineer role will include responsibility for ensuring the best possible performance of each employee and  accomplishing the collective services, goals, projects, initiatives, and work plans of the Department and  City. 
Under the direction of an Engineering Manager or higher level department personnel, the Senior  Engineer will perform the duties relative to their position. Demands of this position will continue to  evolve and change to respond to community needs. Adaptability and flexibility are important for success  in this position. 
What You Bring  
Experience

in team collaboration and staff supervision/management. 

Knowledge

of principles and practices of civil engineering design, administration, and construction  of infrastructure.

Ability

to make complex engineering calculations and to prepare and review engineering plans and  specifications. 

Skill

to effectively communicate and coordinate with internal and external stakeholders. •

Desire

to contribute to a positive work environment that fosters motivation, collaboration, coaching  and engagement. 

Collaboration, Innovation, Respect, Creativity, Transparency and Informed Risk-taking attributes. 
What You Need 
Any combination of experience and training that would likely provide the required knowledge and abilities is  qualifying. A typical way to obtain the knowledge and abilities would be: 
After receiving professional engineer's license, you possess four years' experience in professional  engineering work in areas of assignment. Supervisory experience is highly desirable. • You have the equivalent to a Bachelor's degree from an accredited college or university with major  course work in civil engineering or a closely related field. 

You possess a Certificate of Registration as a professional civil engineer in the State of California

(required)

. 

You possess a valid California Driver's License. 
Bonus Points (highly desirable) 
Supervisory experience 

Program management 

Pavement asset management 

Outstanding written and verbal communication skills 
Salary: $11,188 – $13,337/month, plus a comprehensive benefits package 
Application Deadline: Recruitment will close by January 15, 2020 @ 5:00 p.m. 
To apply, review the complete job announcement, benefits information, etc., please go to  https://www.calopps.org/city-of-san-mateo
---
Geotechnical Engineer
Bauer Associates, Inc. has an immediate opening for a Geotechnical Engineer with project management for land and property improvements experience. We are a full-service, geotechnical engineering and geologic firm in the Santa Rosa area of California.
Requirements for this position include:
Bachelor's Degree in Civil Engineering (BSCE)
Professional Engineer (PE)
Geotechnical Engineer (GE)
Minimum 8 years showing successively increasing responsibility
Ability to work on several projects concurrently.
Ability to focus on the details of a project while understanding the big picture from the project team perspective.
Strong verbal and written communication skills.
Ability to work both independently and collaboratively on a project team, with demonstrated time management skills.
Full-time
Direct-hire position
Medical Benefits
Retirement
Sick and Vacation
Salary: commensurate with experience
Bauer Associates, Inc., is a well established Geotechnical Consulting Firm, in Sonoma, Napa, Lake, Mendocino, and Marin Counties. Our firm has an ownership opportunity.
Please see our detailed company information available on our web site at Bauergeotech.com.
TO APPLY: Please submit your resume with a cover letter explaining your reason for interest in this position to bryce@bauergeotech.com
---