ASCE SOCIETY 2020 "GET OUT AND VOTE" INITIATIVE
This year Region 9 is encouraging all eligible ASCE members to participate in the Society election which started May 1, 2020 and will end June 1, 2020. We have over 13,000 eligible voting ASCE members in Region 9 alone! We are targeting at least 50% participation within Region 9, which includes San Francisco Section, Sacramento Section, Los Angeles Section, Orange County Section, and San Diego Section. Click on the graphic below to see the daily vote counts for all of ASCE!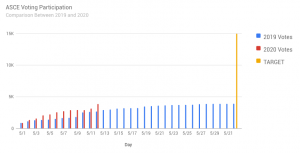 NORTH BAY FIRE RECOVERY ENGINEERING SERVICES 
Following the North Bay wildfires this past October, ASCE members from the San Francisco Section of ASCE formed a committee to discuss ways in which we could assist with recovery efforts. The magnitude of engineering services that has been and will be required to inventory, restore, and rebuild affected areas is immense. It was determined that a directory of engineers that are willing and able to perform services related to the recovery would be a useful tool for municipalities, agencies, homeowners, and business owners.
We are hopeful that this directory will be used by municipalities and agencies to fill short- and long-term engineering vacancies, and contract with private companies for third-party plan checking or inspection services, and that homeowners and business owners may use the directory to find qualified professionals to meet their needs. It is almost certain that there is more work to do than can be provided by local firms, so the directory includes individuals and firms from across the San Francisco Section who can provide services in the North Bay.
Company and individual directories are linked below.
To be included in the service directories above please complete the appropriate survey below.
ASCE FIRE RECOVERY ENGINEERING SERVICES - INDIVIDUALS 
ASCE FIRE RECOVERY ENGINEERING SERVICES - COMPANIES
---
CLICK HERE TO VIEW SYMPOSIUM EVENT PHOTOS