Newsletters
Volume 4 Number 1 (Summer 2020)
Volume 2 Number 1 (Spring 2018)
Volume 1 Number 1 (Spring 2017)
Amin Ghafooripour, Chair
Vladimir Calugaru, Past Chair
Edward J. Thometz, Marketing Director
Brian Kehoe, Technical Director
Shanshan Wang, Technical Director
Francisco Medina, Technical Director
Mark Bird, Treasurer
* Vacant Board Positions *
---
"SEI San Francisco Chapter has been selected to receive the 2019 SEI Chapter of the Year Award in recognition of its exemplary activities and efforts to advance the structural engineering profession"
— David Cocke, S.E., F.SEI, F.ASCE, SEI President
---
Congratulations to Recipients of the 2020 SEI of ASCE, San Francisco Chapter Scholarship! 
We received applications from graduate and undergraduate students enrolled in all six universities served by the SEI-SF Chapter. Members of the scholarship committee were truly impressed and inspired by the academic achievements, extracurricular activities, and career goals of all applicants. The four scholarship recipients demonstrated particularly impressive commitment and passion for structural engineering, reflecting the qualities that we seek to reward with this scholarship. Each of the four winners this year received a $500 scholarship award. We look forward to continuing the SEI-SF scholarship program in 2021.
Our sincere congratulations and best wishes to:
Abdoul Aziz Sandotin Coulibaly (UC Berkeley, MS 2021)
Juliana Patricia Berglund-Brown (Stanford University, BS 2021)
Samantha Erin Louie (Fresno State, BS 2023)
Tyler Xavier Rodrigues (UC Berkeley, BS 2022)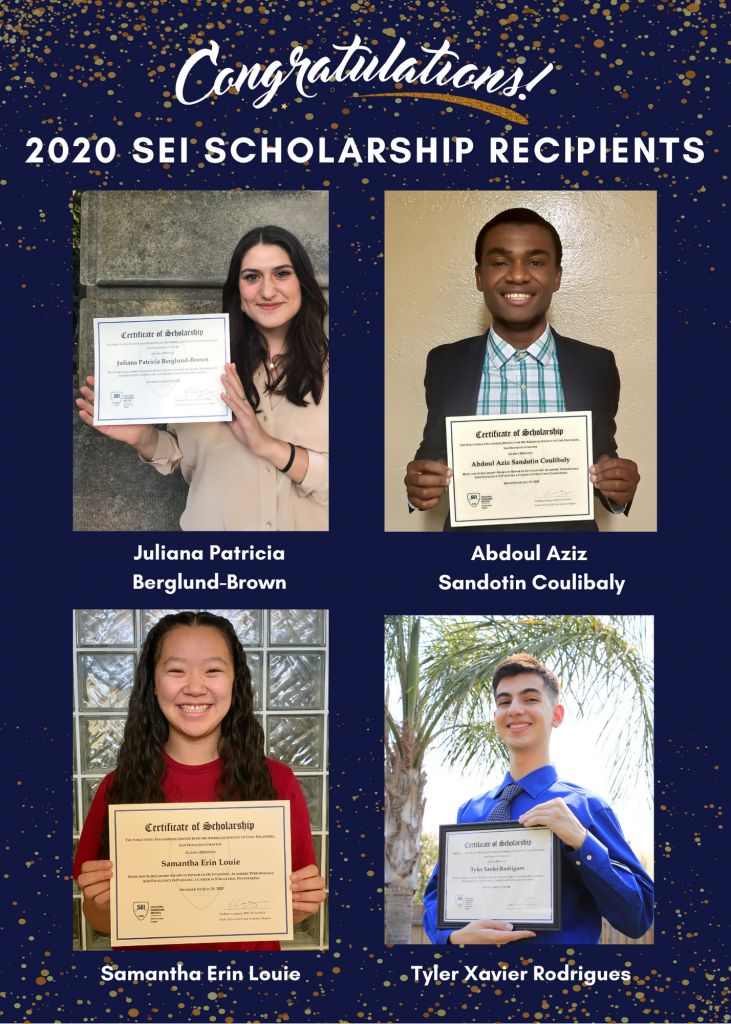 ---
Structural Engineering Institute (SEI) of the American Society of Civil Engineers (ASCE), San Francisco Chapter is happy to announce the SEI of ASCE, San Francisco Chapter Scholarship. The purpose of this scholarship is to promote educational opportunities for students that are interested in pursuing careers in structural engineering and to promote the long-term impact of SEI and ASCE. The $2,000 scholarship may be divided and awarded to multiple winners at the discretion of the selection committee. Up to four winners may be selected. All full-time undergraduate and graduate students attending a university within the ASCE San Francisco Section area of service (the coast of Northern California from Monterey Bay to Oregon, including the entire San Francisco Bay Area and Fresno) and enrolled in a civil engineering program with a focus in structural engineering are eligible for the scholarship. We look forward to reviewing the applications and awarding the scholarship based on academic and professional merit, as well as financial need.
Download the scholarship application here.
Attention: the application due date has been extended to July 24, 2020.
Applications are due by end of day July 10 24, 2020.
Winners will be selected and notified by end of day July 31, 2020.
---
Schedule of Events
Stay tuned for the updated 2020 schedule of events.
---
Receive our news and event updates by joining our mailing list.
---
---
Chapter Introduction
Mission
To serve and promote the structural engineering profession within the San Francisco Bay Area in a manner consistent with the purpose of the Structural Engineering Institute (SEI) of the American Society of Civil Engineers (ASCE).
Vision
Inspire and advance the art and practice of structural engineering, develop and implement programs to enhance knowledge exchange, networking, and other professional development and educational outreach activities.
Chapter Bylaws
SEI-SF Bylaws 2016-04-12 (r1.6)
SEI Information
Established in 1996, SEI advances our members' careers, stimulates technological advancement, and improves professional practice. SEI drives the practical application of cutting edge research by improving coordination and understanding between academia and practicing engineers.  The San Francisco Chapter of ASCE SEI was founded in 2014.
If you have inquires or are interested in joining, please contact us at info@seisf.org.
To subscribe to our email list and receive our news and event updates, please subscribe here.
SEI SF Home | Board of Directors | Goals | Past Events |