Newsletters
Volume 4 Number 1 (Summer 2020)
Volume 2 Number 1 (Spring 2018)
Volume 1 Number 1 (Spring 2017)
Amin Ghafooripour, Chair
Vladimir Calugaru, Past Chair
Edward J. Thometz, Marketing Director
Brian Kehoe, Technical Director
Shanshan Wang, Technical Director
Francisco Medina, Technical Director
Mark Bird, Treasurer
* Vacant Board Positions *
---
"SEI San Francisco Chapter has been selected to receive the 2019 SEI Chapter of the Year Award in recognition of its exemplary activities and efforts to advance the structural engineering profession"
— David Cocke, S.E., F.SEI, F.ASCE, SEI President
---
Structural Engineering Institute (SEI) of the American Society of Civil Engineers (ASCE), San Francisco Chapter is happy to announce the 2021 SEI of ASCE, San Francisco Chapter Scholarship. The purpose of this scholarship is to promote educational opportunities for students that are interested in pursuing careers in structural engineering and to promote the long-term impact of SEI and ASCE. The $2,000 scholarship may be divided and awarded to multiple winners at the discretion of the selection committee. Up to four winners may be selected. All full-time undergraduate and graduate students attending a university within the ASCE San Francisco Section area of service (the coast of Northern California from Monterey Bay to Oregon, including the entire San Francisco Bay Area and Fresno) and enrolled in a civil engineering program with a focus in structural engineering are eligible for the scholarship. We look forward to reviewing the applications and awarding the scholarship based on academic and professional merit, as well as financial need.
Download the scholarship application here.
Applications are due by end of day August 6, 2021. Extended to August 13, 2021.
Winners will be selected and notified by end of day August 20, 2021.
---
Upcoming Event – August 19, 2021
Webinar on Innovative Steel Structures in China: Case Study on Prefabrication and Sustainability
In China, steel has gained increasingly popularity in construction, with more than 15% of new buildings presently utilizing structural steel.  In 2016, the Chinese central government approved their 13th Five-Year Plan, which set a requirement to increase prefabrication to 15% in cities with a perpetual population of more than 3 million. Both market and policy have shown a strong influence on prefabricated steel structures. During the past five years, numerous innovations have developed in the prefabrication industry. This presentation will introduce one such innovation developed for prefabrication steel members and systems, Light Steel Framing (LSF/LGS), and address the sustainability potentials of its application on a steel project.
Click on the link below to register or RSVP.
Chief Technology Officer, Tech Prefab Inc.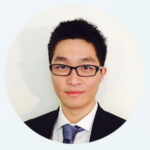 Dr. Xu is the Chief Technology Officer from Tech Prefab Inc., a prefabrication solution provider. Dr. Xu has more than ten years of experience in project management and building energy consultant. In the last three years, he has worked with Chinese steel prefab manufacturers and design-build firms on multiple small to medium projects in both China and United States.
Dr. Xu is a skilled professional in software development for the Integrated Design of Buildings, Data Analytics, Business Planning, Commercial Building HVAC design, Building Construction, Energy Modeling, and Technology Transfer. He is a trong product management professional with a Doctor of Philosophy in Building Performance and Diagnostics from Carnegie Mellon University.
Dr. Xu received his bachelor of science degree from the University of Nottingham in the U.K. in Architectural and Environmental Engineering. While earning his Master's Degree at the University of Rochester, he developed his knowledge in building service systems, economic analysis, alternative energy, applications of green technology, solar energy, and systems modeling.
---
Upcoming Event – Date TBD
Webinar on Nonstructural Components' Influence on Seismic Force Demand and Dynamic Response
Failure of nonstructural components during an earthquake can lead to structure functionality loss, cause widespread property damage, and pose a life-safety threat to the occupants. Current code provisions aim to minimize the life safety threat by specifying lateral force demands and anchoring requirements. These code requirements are based on a simplified equation that does not fully consider the component attachment's contribution to its overall dynamic response. Research suggests that the component attachment is an important parameter that determines its dynamic properties. This talk will present an experimental test program focused on the contribution of the nonstructural component's attachment to the seismic force demand and the dynamic response. For the study, a nonstructural experimental model was attached via several connection designs to a concrete slab and tested on a shaking table to evaluate this contribution. The attachments were dimensioned based on a capacity design approach, such that they would be the weakest element in the force path while providing a yielding failure mechanism. The attachment designs provide different plastic mechanisms that control the displacement ductility in the response of the component. The experimental results suggest that the attachment properties govern the boundary conditions of the nonstructural component and that the use of attachments sustaining increased ductility during shaking does not necessarily result in reduced seismic loads.
Tali Feinstein Ph.D. Candidate
Department of Civil and Environmental Engineering | University of California, Berkeley
Tali Feinstein's research is under the supervision of Prof. Jack Moehle. Her research focus is seismic design of anchored floor-mounted nonstructural components, including experimental tests performed at the PEER shaking table located in Richmond, CA and at the NARlabs shaking table located in Tainan, Taiwan. Tali was the president of the UC Berkeley EERI chapter for two years and has been involved in various educational outreach programs for fourth grade to high school students. Tali earned her B.S. in structural engineering in 2014 and M.S. in Mechanical engineering in 2016 from Ben Gurion University in Israel. Her Master thesis topic focused on the assessment of pipe-soil interaction based on large deformation analysis. Tali has worked as a structural engineer designing bridges at Rokach & Ashkenazi Consulting Engineers, LTD. Prior to seeking a career in structural engineering, Tali has served as a research officer and team leader conducting technological research in the Israeli Intelligence force for five years.
---
Schedule of Events
Stay tuned for the updated 2021 schedule of events.
---
Congratulations to Recipients of the 2020 SEI of ASCE, San Francisco Chapter Scholarship! 
We received applications from graduate and undergraduate students enrolled in all six universities served by the SEI-SF Chapter. Members of the scholarship committee were truly impressed and inspired by the academic achievements, extracurricular activities, and career goals of all applicants. The four scholarship recipients demonstrated particularly impressive commitment and passion for structural engineering, reflecting the qualities that we seek to reward with this scholarship. Each of the four winners this year received a $500 scholarship award. We look forward to continuing the SEI-SF scholarship program in 2021.
Our sincere congratulations and best wishes to:
Abdoul Aziz Sandotin Coulibaly (UC Berkeley, MS 2021)
Juliana Patricia Berglund-Brown (Stanford University, BS 2021)
Samantha Erin Louie (Fresno State, BS 2023)
Tyler Xavier Rodrigues (UC Berkeley, BS 2022)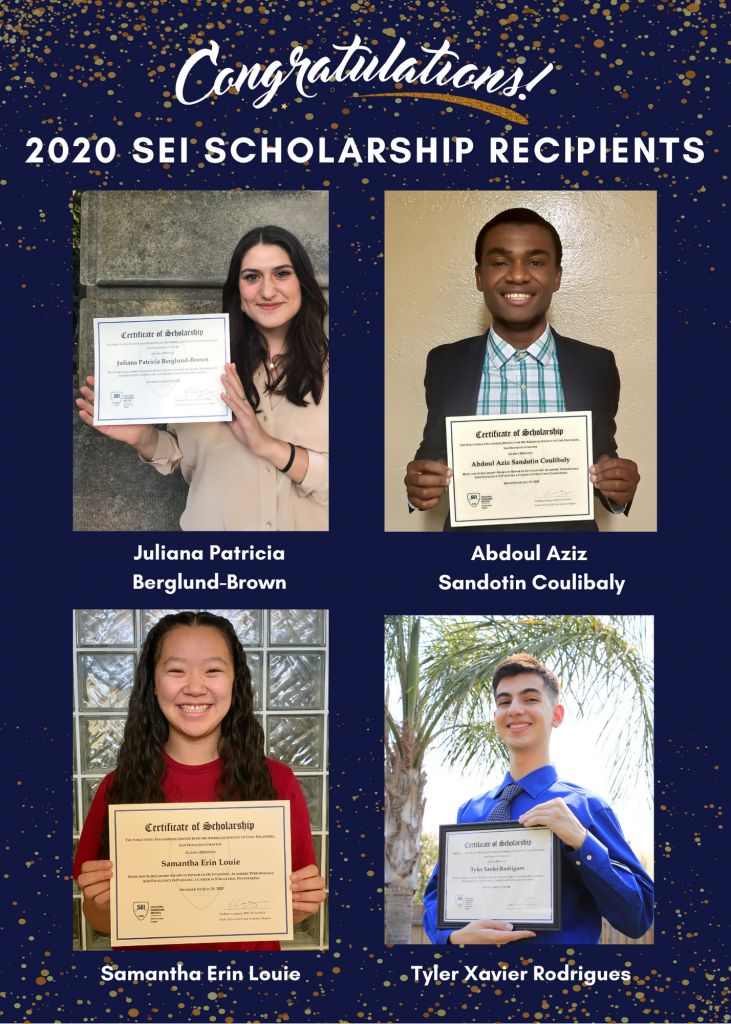 ---
Receive our news and event updates by joining our mailing list.
---
---
Chapter Introduction
Mission
To serve and promote the structural engineering profession within the San Francisco Bay Area in a manner consistent with the purpose of the Structural Engineering Institute (SEI) of the American Society of Civil Engineers (ASCE).
Vision
Inspire and advance the art and practice of structural engineering, develop and implement programs to enhance knowledge exchange, networking, and other professional development and educational outreach activities.
Chapter Bylaws
SEI-SF Bylaws 2016-04-12 (r1.6)
SEI Information
Established in 1996, SEI advances our members' careers, stimulates technological advancement, and improves professional practice. SEI drives the practical application of cutting edge research by improving coordination and understanding between academia and practicing engineers.  The San Francisco Chapter of ASCE SEI was founded in 2014.
If you have inquires or are interested in joining, please contact us at info@seisf.org.
To subscribe to our email list and receive our news and event updates, please subscribe here.
SEI SF Home | Board of Directors | Goals | Past Events |