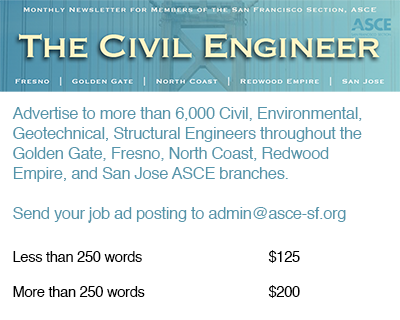 Senior Civil/Mechanical Engineer – Water Resources – 5 Years of Experience
Location:  Oakland
Wood Rodgers has a new opportunity.  The successful candidate with be responsible for managing/performing engineering analyses and design relating to water, wastewater, and stormwater treatment, pumping, and conveyance systems.  Requires client coordination, project management, staff management, and the preparation of technical analyses including technical memoranda, technical reports, feasibility studies, preliminary engineering design, and final design (including the preparation construction plans, specifications, and cost estimates).  Bid and Construction phase support is also required, including evaluation of construction bids, responding to contractor Requests for Information (RFIs), reviewing submittals, and evaluating construction change proposals.
Requirements:
Minimum of 5 years of experience performing the essential duties listed above
Bachelor's degree in Civil or Mechanical Engineering required
P.E. Licensure in Civil or Mechanical Engineering required
Demonstrated knowledge of Civil/Mechanical engineering principles, practices, and methods of design, construction, and maintenance for hydraulic structures including pump stations, intakes, trash screening systems, and associated piping and appurtenances
Excellent written and oral communication skills
Ability to supervise others in the completion of project tasks
Ability to make sound decisions regarding complex engineering problems
Working knowledge of personal computers, and independently proficient in computer aided drafting (AutoCAD), word processing, project scheduling, and spreadsheets
For full details and to apply visit:  http://www.woodrodgers.com/careers
Equal Opportunity Employer
EEO AA M/F/Vet/Disability
---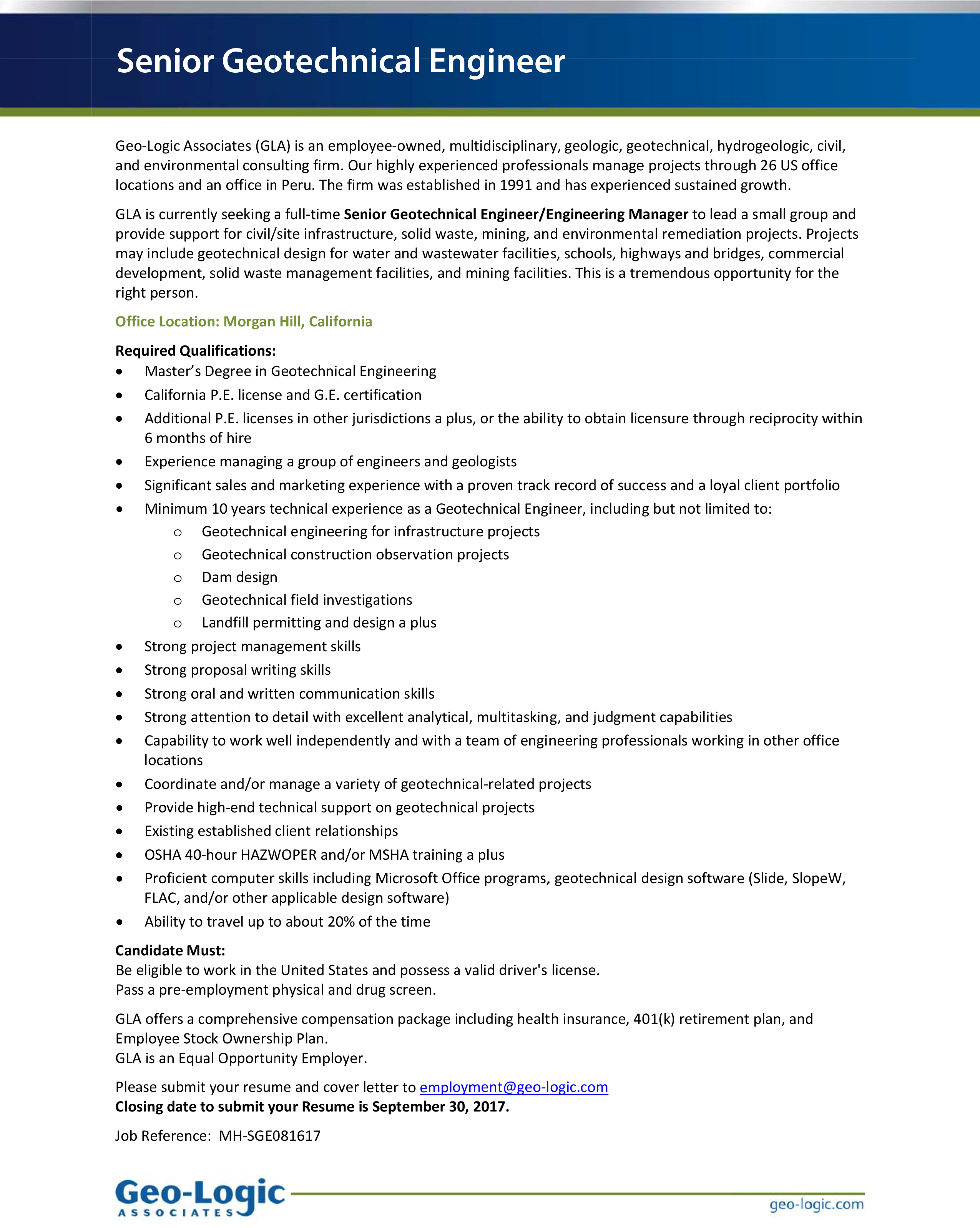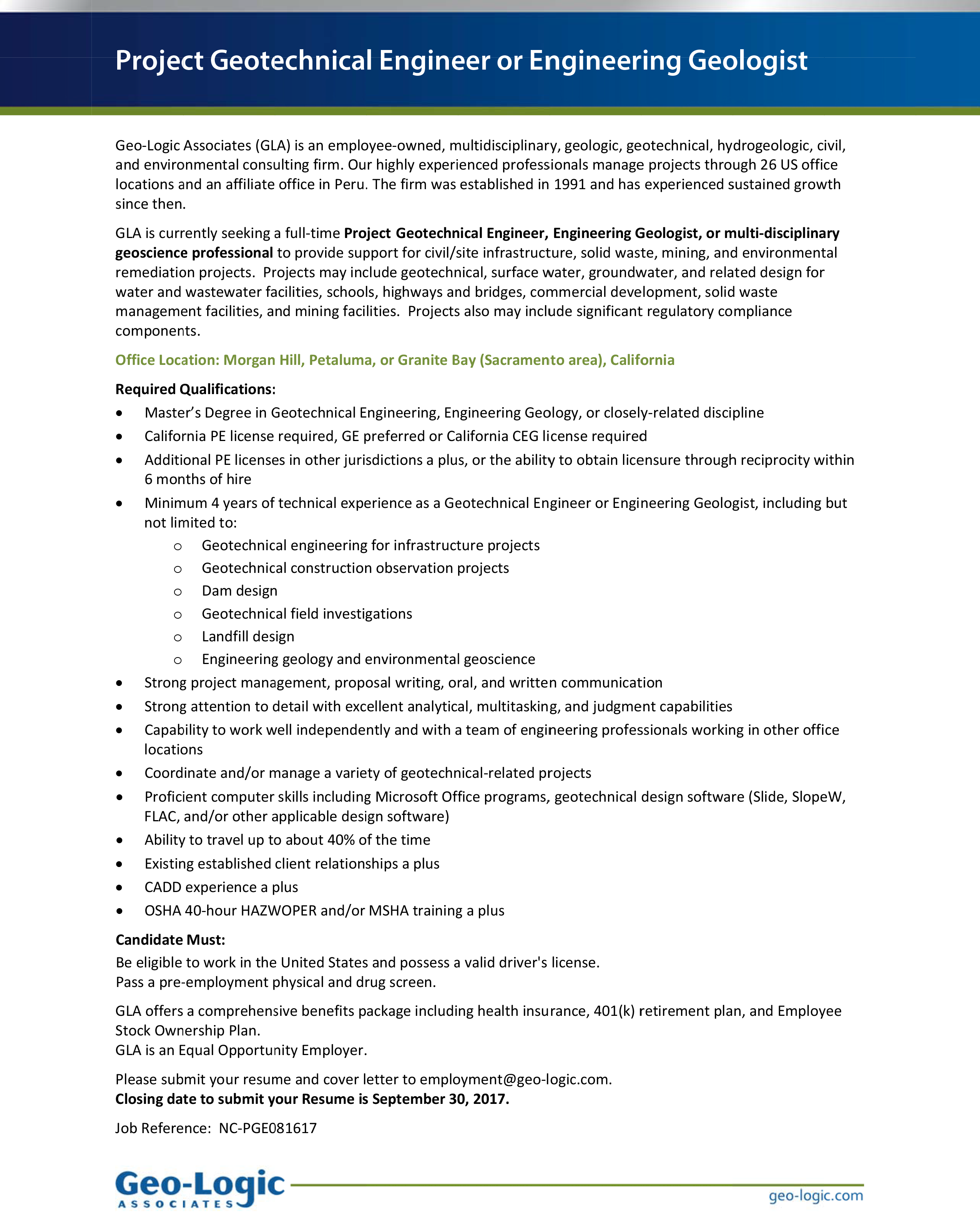 ---

Civil Engineer – 4 to 6 Years Experience
Join our team of industry leaders and make a difference on some of the most exciting and interesting projects in the field!
Langan has an opening for a Site/Civil Engineer in our San Francisco, CA office with an interest in land development engineering. As the successful candidate, you will have four to six years of experience in site/civil engineering design for mixed-use, urban in-fill, residential, education, health care, federal and other development projects.  An entrepreneurial and professional demeanor as well as strong technical skills are essential to the position.
Requirements:
Bachelor's degree in Civil Engineering required; Master's degree in Civil Engineering is a plus;
California Professional Engineer licensure preferred;
4 to 6 years of related site/civil land development experience;
Knowledge of local city, county and state land use processes and regulations strongly desired;
Proficiency in technical skills in stormwater management, hydraulics, hydrological analysis, grading and other site development related designs;
Proficiency in AutoCAD and Civil 3D skills with the ability to design site layouts concept through completion;
Experience in writing reports and proposals is a plus;
Ability to interact well with coworkers, clients, and regulatory agencies;
Excellent verbal and written communication skills;
Strong attention to detail with excellent analytical and judgment capabilities;
Ability to work independently, as well as, in a team environment; and,
Position requires work Monday through Friday with occasional evenings and weekends.
For full details, and to apply visit; http://bit.ly/2nsSq4Z
Equal Opportunity Employer
EOE AA M/F/Vet/Disability
---
Civil Engineer – Project Manager – 6 to 8 Years Experience
Langan is looking to hire an experienced Civil Engineer / Project Manager for our San Jose, CA office.  As the successful candidate, your responsibilities will include civil engineering and project management, including designing multi-family residential, commercial, industrial, and institutional land development engineering projects in California.
Requirements:
B.S. degree in Civil Engineering, M.S. degree a plus;
6 to 8 years of successful land development engineering experience with a concentration toward private development work. Experience in California strongly desired;
Possess a valid Professional Engineer license.  A California license is preferred;
Experienced in interacting with clients and assisting with client management;
Effectively manage projects from concept through construction documents;
Self-starter with the ability to manage, motivate, mentor and lead others;
Ability to design and oversee design including layout, grading, drainage, infrastructure, erosion and sediment control, etc. from concept through construction documents;
Expertise in hydrologic/hydraulic analysis and design including SWPPP preparation and water quality compliance;
Experienced in report and proposal writing;
Excellent verbal and written communication skills;
Strong attention to detail with excellent analytical and judgment capabilities;
Possess a valid driver's license in good standing and reliable transportation for job site or client locations; and,
Availability to work overtime.
Langan offers its employees opportunities that provide challenge and responsibility within an environment where they can grow and flourish!
Equal Opportunity Employer
EOE AA M/F/Vet/Disability
For full details, and to apply visit: http://bit.ly/2lAL63C
---
Position Title: Senior Geotechnical Engineer – Project Manager
Full-time
Oakland, CA
Job Summary:
The AECOM Oakland California Geo-Engineering Department is seeking an experienced, energetic Senior Foundation Engineer to take a leadership role in our foundation engineering practice.  The candidate will have the opportunity to direct projects for a variety of facilities including refineries, pipelines, bridges, tunnels, dams, levees, and building structures, and coordinate with a broad  range of other disciplines within AECOM.  The candidate should have experience in supervising and training staff in geotechnical investigations, analyses, reporting, and construction observation.  Business development for existing and new clients will be an integral part of the position.
Responsibilities for this position include but are not limited to:
Project management – tracking scope, schedule and budget
Business development for new and existing clients
Preparing engineering services proposals, cost estimates, and schedules
Preparing Project Work plans and Health and Safety Plans
Providing technical support to geotechnical projects
Overseeing and preparing engineering reports and documentation
Reviewing engineering reports and documentation prepared by junior staff
Ensuring the quality of project deliverables
Mentoring and technical development of junior staff
Performing Independent Technical Reviews
Minimum Requirements:
Bachelor's Degree in Civil Engineering
13+ years of relevant professional experience
California PE registration
Experience planning and directing geotechnical investigations
Thorough knowledge of foundation engineering including shallow and deep foundations, earthwork, slope stability
Working knowledge of relevant building code provisions
Strong commitment to ensuring safe project execution
Must possess a valid driver's license
Local travel required
Due to the nature of this work, qualified applicants who are offered a position must pass a pre-employment substance abuse test
Preferred Qualifications
Master's degree or PhD in Civil Engineering
Experience working in Refinery or other industrial sites
Geotechnical California GE registration
Experience working with local permitting jurisdictions
OSHA 40 Hour Hazwoper Trained
Refinery Safety Trained
AECOM is an equal opportunity employer and Minorities, Females, Veterans, and Disabled persons are encouraged to apply.
APPLY HERE: http://aecom.jobs/oakland-ca/senior-geotechnical-engineer-project-manager/B257A9BE738C41A688B3FC7F3882BA9F/job/
---
---