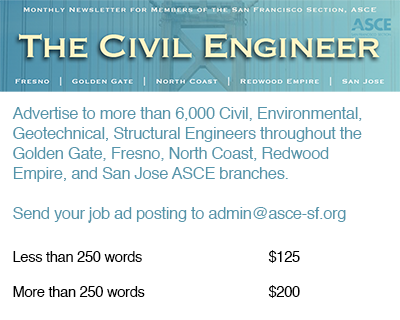 TRANSPORTATION ENGINEER
Public Works Department
County of Marin, California
Salary: $ 131,352 – $161,304 Annually, DOQ/DOE
The County of Marin seeks a Principal Civil Engineer (Principal Engineer) to head their Transportation and Traffic Operations Division.  We are looking for an engaging leader who combines their engineering technical knowhow, with strong leadership and interpersonal skills.  This is a senior leadership position within the Public Works Department and will lead the Transportation Services Division. Highly qualified candidates for this Principal Engineer will have a background in traffic engineering to manage projects from inception to completion, and be a registered Civil Engineer (PE) with the State of California. You will also have a strong background overseeing complex traffic engineering projects that include collaborating across multiple County departments and divisions, and across city jurisdictions within the County of Marin. Ideal candidates will be effective decision makers, resourceful, customer service focused, responsive (to internal and external customers), have a high level of emotional intelligence, and able to demonstrate effective communication skills.
For more information please see the complete recruitment brochure: https://wbcpinc.com/wp-content/uploads/2019/08/Principal-Engineer-Marin-Brochure-FINAL.pdf
This position is open and continuous until filled. To be considered for this exceptional career opportunity, interested candidates are strongly encouraged to apply early for first consideration.
Apply at the County's website: http://www.marincounty.org/jobs  – we are using an abbreviated application, which should take approximately 15 minutes to complete!
---
Deputy Director, Public Works Agency
Alameda County, CA 
The Alameda County Public Works Agency is seeking an ambitious, innovative, and pragmatic leader to provide robust capital project delivery oversight of the engineering, transportation, and flood control functions for the Agency. The next Deputy Director, Public Works Agency for Alameda County will have the opportunity to oversee the capital project delivery of an impressive portfolio of projects in one of the most desirable locations in the United States. Reporting to the Director of Public Works, this Deputy Director oversees the Engineering Department, with a $500 million, 5-year Capital Improvement Program and 63 FTEs. This civil service position with Alameda County requires that candidates possess Bachelor's degree in Civil Engineering from an accredited college or university; Certificate of Registration as a Professional Civil Engineer in the State of California or the ability to obtain within six months of appointment; and Five years of civil engineering supervisory experience with at least two of the years at the Principal, Assistant Director, or higher-level position within an engineering organization. Two years of experience in the class of Principal Engineer in Alameda County is considered qualifying. The annual salary range is $154,356-$187,720, DOQ. Interested candidates should apply by Monday, August 26, 2019 by submitting a compelling cover letter and comprehensive resume to apply@ralphandersen.com.
Candidates will then be instructed to immediately complete an online application with Alameda County to complete the process. Confidential inquiries are welcomed to Mr. Greg Nelson at (916) 630-4900. Detailed brochure is available at www.ralphandersen.com. 
---
Langan is an award-winning ENR Top 500 Design Firm that offers integrated engineering and environmental services for both public and private sector clients at sites located throughout the United States and abroad.  Langan receives numerous recognitions for its technical expertise as well as its work environment, including "Top Engineering Firm" by both San Francisco Business Times and Silicon Valley Business Journal.  
Langan has an immediate opening for a Geotechnical Engineer with 3 to 10 years of related geotechnical experience in our San Francisco, CA office. As the successful candidate, your responsibilities include but are not limited to: actively participating in the technical advancement of the state of the practice for the geotechnical group, performing engineering analyses for complex geotechnical problems, assisting in the interpretation of subsurface data, use of advanced geotechnical computer software (including finite element and finite difference), assisting in development of site-specific ground motions, planning and execution of field investigations, field and laboratory testing programs, boring logs, and developing geotechnical conclusions and recommendations for projects. You will also be responsible for performing both routine and complex geotechnical engineering analyses, preparation of proposals for geotechnical engineering services including development of scope, fee estimate and schedule, preparation of geotechnical engineering reports, and plans and technical specifications for contract document packages.
To apply, please visit https://www.langan.com/jobs/geotechnical-engineer-3-to-10-years-experience/
---