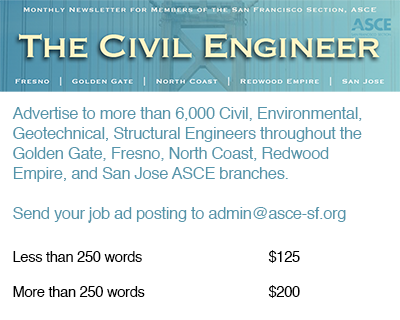 Public Works Director
City of Ventura, CA
Situated in California's Gold Coast region slightly north of Los Angeles County, the City of Ventura (pop. 111,790) is considered to be one of the most livable and desirable communities in the nation with its spectacular coastline and incredible climate. The Public Works Department is supported by a staff of 87 FTE and a FY2018-19 budget of $49.7M. Public Works is also responsible for an ambitious 6-year CIP valued at $695M.
Along with extensive engineering depth and expertise, the ideal candidate will have an impressive history with project management and delivery. He/she will also be an outstanding leader and communicator capable of developing high performing teams. Six years of progressively responsible civil engineering experience or management experience in a public works department/division, including at least three years of experience supervising professional-level staff, and a bachelor's degree is required. A master's degree is preferred. Registration as a California Civil Engineer is highly desirable. Candidates with registration in another state shall have the ability to quickly become registered in California.
Salary up to $196,649 (2.25% salary increase effective 7/13/19); salary supplemented by an attractive benefits package. Closes Sunday, April 7, 2019. Please visit www.tbcrecruiting.com for detailed information.
---
Water & Power Operations Manager
Solano Irrigation District
(Vacaville, California)
The Solano Irrigation District (SID), in the City of Vacaville, is seeking a highly skilled water utility manager. SID provides 151,000 acre-feet of irrigation water to over 59,000 acres of irrigable land and supplies water for a residential population of more than 300,000. The Water & Power Operations Manager reports to the General Manager and has broad management responsibility for day-to-day operations of the Water & Power Operations Department and oversight of 63 departmental staff. This leadership position oversees construction and maintenance of the District's potable treatment/distribution water systems and agricultural irrigation water delivery systems. Bachelor's degree plus 8 years supervisory experience in the operations and maintenance of water treatment plants, water distribution systems, and pumping facilities with 3 years in management capacity. Master's degree and/or licensed PE in State of California a plus. Annual salary range is $147,430 to $179,192 DOQ. The District does not participate in Social Security. Relocation assistance may be provided.
Candidates apply by submitting cover letter and resume to apply@ralphandersen.com by Friday, March 29, 2019. This is a confidential recruitment and candidates should be aware that references will not be contacted until mutual interest has been established. Confidential inquiries welcomed to Ms. Heather Renschler or Ms. Diana Haussmann at (916) 630-4900.
Brochure available at www.ralphandersen.com/jobs/water-power-operations-manager-solano-irrigation-district/ .
---

DERWA (Dublin San Ramon Services District (DSRSD) – East Bay Municipal Utility District (EBMUD) Recycled Water Authority) Authority Manager
The Dublin San Ramon Services District (DSRSD) – East Bay Municipal Utility District (EBMUD) Recycled Water Authority (DERWA) is a Joint Powers Authority (JPA) formed between DSRSD and EBMUD with the mission to provide a safe, reliable, and consistent supply of recycled water and to maximize the amount of recycled water delivered. Working with a significant amount of autonomy (contributing approximately 1,000 hours annually), the Authority Manager will draw both technical knowledge and experience from an accomplished career in the public or private sector as a utility manager or as an executive level generalist in city/county management. The Authority Manager will be frequently and actively involved with key staff and leadership at both partner agencies, DSRSD and EBMUD, and with other participating and regulatory agencies. This position requires a Bachelor's degree and progressively responsible management and administrative experience dealing with water, wastewater, and/or recycled water in either a public agency or a private utility. Experience working directly with a public utility is strongly preferred. Experience in California is strongly preferred. Ability to identify, pursue, and administer grant funding is an added plus. Advance degree and Professional Engineer (Civil) license in the State of California is an added plus. Employment for the Authority Manager will be through a contractual arrangement with a Third-Party Contractor. The hourly rate of pay will be DOQ.
Interested candidates should submit a compelling cover letter and comprehensive resume to apply@ralphandersen.com by Monday, April 1, 2019. Confidential inquires welcomed to Heather Renschler, Ralph Andersen & Associates, (916) 630-4900. Detailed brochure available at www.ralphandersen.com/jobs/authority-manager-derwa/.
---
Civil Engineer – Ducks Unlimited, Inc.
Ducks Unlimited, Inc., the world's leading wetland and waterfowl conservation organization, has exciting opportunities for civil engineers. Two positions are sought to join a highly-motivated conservation team of biologists and engineers responsible for the planning, design, and construction of wetland restoration and water delivery infrastructure projects headquartered out of the Western Regional Office in Rancho Cordova, CA. Positions are open in the Sacramento/San Joaquin Valley and San Francisco Bay areas.
Please see www.ducks.org and search "jobs" for position descriptions and application information.
---