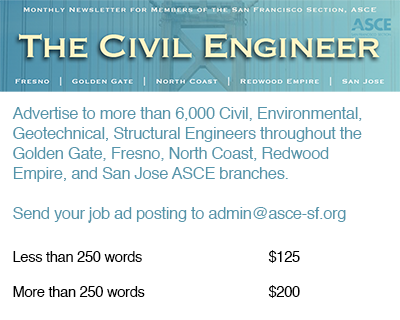 Geotechnical Lead – ARUP
Clients with complex projects come to Arup for our innovative spirit, a spirit that compels us to express our ingenuity in unique ways that strengthen their businesses —developing many of the world's most innovative and sustainable buildings, transport and civil engineering projects.
Owner's and investor's rely on the creative minds of Arup's 14,000 engineers, planners and consultants to bring our collaborative and empathetic thinking to creating sustainable outcomes. These outcomes immediately set their businesses apart from the competition and prepare their organizations for the future.
Our geotechnical team has delivered some of the most technically challenging subsurface designs undertaken around the world. Our San Francisco and Los Angeles geotechnical teams have provided geotechnical design for:
• Salesforce Tower and the Salesforce Transit Center in San Francisco
• The Central Valley segments of the California High Speed Rail line currently under construction
• The soon to open Crenshaw Line in Los Angeles
• The new Mexico City Airport under construction as is
• The Gerald Desmond Bridge
• Highway, Bridge and Rail projects in Panama and Colombia.
Arup seeks a geotechnical lead for our teams in San Francisco and Los Angeles. The successful candidate will have experience that demonstrates the capability of leading geotechnical design teams supporting complex projects in California, the US and internationally and as well as an ability to grow the teams through business development, staff development and strategic hiring.
Responsibilities:
•Maintaining Arup's high standards for technical excellence, client care, and the appropriate quality of our deliverables
• Interfacing with internal and external clients and stakeholders
• Inspiring, motivating and training of team members Working closely with Office, Regional and Global Businesses to enhance and implement business plans that expand Arup's market
• Working closely with our other North American offices and geotechnical teams, and liaising with our overseas offices on international projects.
• Staff resourcing and financial performance of projects managed within the Geotechnical Group and the geotechnical portion of projects for other Arup businesses
• Recruiting geotechnical staff at all levels in response to the business needs
• Develop business opportunities both for projects lead by the Geotechnical Group and for projects lead by other Arup businesses and practices
Qualifications:
• Bachelors/Masters Degree in Civil/Geotechnical Engineering
• CA PE and GE (preferred)
• Extensive design experience in the areas of geotechnical design for infrastructure and buildings
• Ability to communicate and coordinate work within an integrated multidisciplinary team.
• Understanding of relevant construction techniques available both locally and internationally
• Working knowledge of numerical analysis tools
• Working knowledge of seismic analysis and codes
• Experience of managing site investigations and laboratory testing.
• High level of self-motivation and of the ability to motivate others
• Comfortable taking the initiative and make decisions
• Strong communication skills with internal and external clients
• Sound understanding of commercial and financial issues
• Language skills – English (required) and Spanish (preferred)
• This role may require travelling within North America and overseas, typically for short periods, to support the delivery of our work.
Share your passion and experience in a global culture that believes your potential to achieve is endless. This is your opportunity to shine.
Arup is proud to be an equal opportunity employer.
---
ASSOCIATE/SENIOR CIVIL ENGINEER – City of Petaluma, CA
Department: Public Works & Utilities
Division: Capital Projects
Opening Date: 10/04/18
Closing Date: 11/01/18 11:59 PM
CLICK HERE TO VIEW THIS JOB POSTING: