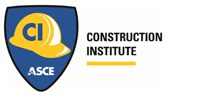 Chair
Kerry Morgan
BART
510-287-4815
kmorgan@bart.gov
Vice-Chair
Vacant
Treasurer
Corey T. Dare
GEOSPHERE Consultants, Inc.
925-314-7180
Secretary
Douglas Higashi
EBMUD
510-287-1677
dhigashi@ebmud.com
Senior Adviser
Joe Kaplan
Joseph Kaplan, Inc.
650-588-9866
jkicont@ix.netcom.com
Scholarships
Frank Sana
VSCE, Inc.
510-589-2618
fsana@vsceinc.com
SF Construction Institute
Construction Institute
Dinner Meeting: San Francisco-Oakland Bay Bridge: Dismantling the Cantilever Truss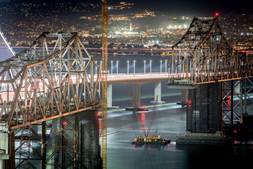 The Joint Venture of California Engineering Contractors/Silverado Contractors started the dismantling of the 80 year old Cantilever Span on Labor Day Weekend in 2013.  The dismantling of the spans, which was performed in a sequence referred to as "reverse engineering", was completed in approximately 20 months.  The Bridge was 382 feet high at its tallest point and nearly ½ mile in length and included over 20,000 tons of steel and 12,000 tons of concrete to be removed.  David Piermarini, Operations Manager of the Bay Bridge Demolition for California Engineering Contractors, will present some of the challenging aspects of the work and include a description of the intricate removal procedure which had to address the relieving of the "locked-in forces" of the old spans.
Date and Time:
Tuesday, October 20, 2015; 6 p.m. social hour with private wine/beer bar, $4 each inclusive; soft drinks, $2 each inclusive, all proceeds to scholarship fund;
7 p.m. dinner; 8 p.m. program; 9:15 p.m. raffle and adjourn.
Cost: Regular/advance payment: $35; regular/pay at door:
$40; student/advance payment: $10; student/pay at door: $15
Location:
Restaurant Peony – VIP Banquet Room, 388 Ninth
Street, Suite 288 Oakland, CA 94607
Menu: Multi-Course Chinese Banquet Dinner
Parking: Street parking is limited or building garage ($2 flat
rate); no validation.
Registration: Pre-registration closes October 19th.
No refunds after October 16th.
Event URL: http://events.constantcontact.com/register/event?llr=tynn6tjab&oeidk=a07ebma8pxre03bb347
The program will conclude with the CI Section Scholarship Fund raffle. Please remember to bring donations of raffle prizes to this event so we can insure the success of this important fund!  For information on the Construction Institute call Douglas Higashi at 510-287-1677