May 2020 – Notice of Region 9 Opening for At-Large Governor
---
REGION 9 OPENING FOR AT-LARGE GOVERNOR – MAY 2020 NEWSLETTER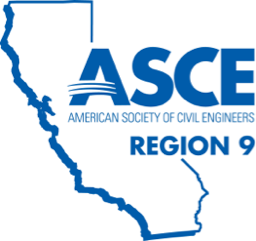 NOTICE OF REGION 9 OPENING FOR AT-LARGE GOVERNOR
ASCE Region 9 invites nominations for one Region 9 Governor At-Large position for a three-year term beginning October 1, 2020.  To be considered for this position, you must be a Society member in good standing and have an Address of Record within the Region being represented.  It is encouraged that nominees also have prior service as a Branch, Section or Technical Group officer, member of a Section or Branch committee, or a member of a Society-level Committee and have demonstrated leadership skills.  This is an appointed position.
Under the current Region 9 Bylaws, the Region 9 Board of Governors shall base its selection on the specific qualities and/or membership affiliations that are underrepresented on the Region 9 Board of Governors by the Elected Region 9 Governors.  In addition, in July 2019, the Society Board of Direction directed that all Board and Society Committees, and their constituent committees, to modify their organizational structures to require at least one (1) position be held by a Younger Member.  The Region 9 Board therefore considers it desirable that a Younger Member would assume a position on its Board for the 2020-2023 term, since there is currently no Younger Member on the Board.
A Letter of Intent to apply for this elected office must be submitted not later than June 1, 2020, to the Region 9 Nominating Committee Chair: Yaz Emrani, at YEmrani@GlendaleCA.gov, (949) 285-8483.  Please contact Yaz Emrani for any questions.  In addition, the following documents are also requested:
– Signed Governor Commitment document (contact Yaz Emrani for form)
– Biographical Statement, not to exceed 200 words
– Vision Statement, not to exceed 200 words
– Any endorsements
– Head shot color photograph
Nominees will be requested to attend a video-conferencing interview before the Region 9 Board of Governors tentatively scheduled for June 19, 2020 at 1pm Pacific Daylight Time.  A selection of At-Large Region Governor will be made that day, and all applicants will be subsequently notified.
---
ASCE SOCIETY BYLAWS
Article 5 Management
5.4.2 Geographic Region Boards of Governors. Geographic Region Boards of Governors shall be established for each Geographic Region.
5.4.2.2 Duties. The Geographic Region Boards of Governors shall be responsible for establishing, reforming, or dissolving Geographic Units within their Region; assisting in development and implementation of the Society's Strategic Plan; reviewing Annual Reports from their respective Organizational Entities and coordinating with the Member Communities
Committee on how to resolve issues of concern; providing leadership and direction for Region technical, professional and educational activities; serving as a resource to Sections for Society level programs; providing input to the Board of Direction on policy initiatives; facilitating the process for election of Geographic Region Directors and Geographic Region Governors;
participating in the nomination process for President-elect; and fostering communications to and from the Board of Direction and between the Region's Organizational Entities.
---
ASCE Board of Governors Commitment
If elected to the American Society of Civil Engineers, Region 9 Board of Governors, I commit to actively participate in the growth and development of the Region 9 Board and will satisfy the following duties and requirements:
Remain in good standing as a member of the American Society of Civil Engineers
Insure that the Board of Governors operates with legal and ethical integrity and is accountable to its Members and obligations to the ASCE Society at all times;
Be accessible and contribute knowledge, experience, contacts, and resources to help assure success of Region 9
Provide input to ASCE Board of Direction, facilitate communications, help implement the Society's Strategic Plan, promote leadership development, support the local geographic units, and improve member service within the Society
Be proactive in supporting the ASCE Region strategic goals and objectives and work to develop and/or strengthen the programs and services required to achieve them
Serve as the ambassador of ASCE and work to enhance the organization's public standing
Serve on ASCE Society or Region 9 Board Committees as appointed
Help secure funding for the Region 9 programs through sponsorship, corporate and charitable sources, grant funding, fundraising events, and personal donations
Help encourage, support and recruit new Society Committees, Governors, Directors, President-Elect Nominees
Attend all monthly Region 9 Board meetings (typically monthly conference calls and three face-to-face meetings per year held throughout the State)
Attend and participate in annual Multi-Region 8 & 9 Leadership Conference as a facilitator and session moderator
Attend Leader Orientation as a new governor held by ASCE Society in Reston, Virginia
Attend annual ASCE Presidents and Governors Forum held by ASCE Society in Reston, Virginia (recommended)
Attend annual Region 9 Infrastructure Symposium and Region 9 Awards Dinner
Attend annual ASCE Society Convention and provide updates to the Board of Governors on information received (recommended)
Attend as many local ASCE Section, Branch, YMF, LMF, Student Chapter, local Institute Chapters and technical and professional group events as possible in support of ASCE Region 9 Board goals and objectives
Section/Elected Governors – Attend Section Board meetings of your assigned Section and participate as voting members of the Section Board.
Click here to download PDF version of this doc:
Notice of Region 9 Opening for At-Large Governor – Yaz Emrani
---