March 2020 – This Month in Sacramento
---
THIS MONTH IN SACRAMENTO – MARCH 2020 NEWSLETTER
Legislative Update
by Richard Markuson
Region 9 Legislative Advocate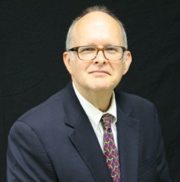 The Legislature reconvened in its last year of the two-year session on January 6. January was a busy month, with only a few two-year bills moving out of their house of origin by January 31. You can view the bills that died in January here.
The big news was the resurrection and then eventual defeat of Senator Scott Wiener's (D-San Francisco) Senate Bill 50. As CalMatters reporter Matt Levin put it, "Developers, landlords, Facebook, construction unions, the state Chamber of Commerce, Realtors, environmental groups and even the AARP wanted to see the bill pass. So did big city mayors including San Francisco's London Breed and San Jose's Sam Liccardo. Not to mention Sen. Toni Atkins, Democratic leader of the state Senate, who typically has a pretty big say in which bills make it out of her chamber. Nonetheless Senate Bill 50, a measure that would have forced cities to allow more mid-rise apartment buildings around public transit and next to some single-family homes, failed to get enough votes in the California Legislature to survive in 2020 before time ran out." (You can see how your State Senator voted here).
Assembly Member Luz Rivas – the only "engineer legislator," has introduced two resolutions: ACR 153 – the E Week resolution, and ACR 154 that proclaims February 20, 2020, as Introduce a Girl to Engineering Day. You can learn more about E Week and Girl Day here.
New Reports of Interest
California Natural Resources Agency, California Environmental Protection Agency, and Dept. of Food and Agriculture have released a draft water resilience portfolio in response to Gov. Newsom's April 29th Executive Order calling for "a portfolio of actions to ensure the state's long-term water resilience and ecosystem health;" portfolio provides recommended actions to maintain and diversify water supplies, protect and enhance natural ecosystems, build connections, and be prepared for "new threats, including more extreme droughts and floods and hotter temperatures."
Lack of Plumbing "More than 2 million people in the U.S. lack running water and basic indoor plumbing, according to a new report by the human-rights nonprofit DigDeep and the nonprofit US Water Alliance — and race and poverty are key determinants of who has access to clean water and sanitation…. Racial water gaps for Latinx and African-American households are particularly salient at the regional level; the authors added: 'In parts of the South, African Americans are the group most likely to lack complete plumbing. In California and Texas, Latinx people are the most affected.'" Report
U.C. San Diego Scripps Institute of Oceanography released Atmospheric River Storms Create $1 Billion-a-Year Flood Damage. "Researchers at Scripps Institution of Oceanography at the University of California San Diego and the U.S. Army Corps of Engineers analyzed the economic impact of the winter storms that deliver an increasingly large share of rain and snow to California and the West." The team found that over the past 40 years flooding has caused nearly $51 billion in damages; with more "than 84 percent of these damages were caused by atmospheric rivers (ARs), which are long narrow corridors of water vapor in the atmosphere capable of carrying more than twice the volume of the Amazon River through the sky." Anticipating that global warming trends will increase their intensity, scientists and emergency officials believe information related to ARs may become more significant and are calling for more research to improve forecasting for use in guiding management decisions related to flood releases, development in flood-prone areas, restoring natural floodplains, and developing green infrastructure.
KQED reported on SGMA. Time's Up on Groundwater Plans: One of the Most Important New California Water Laws in 50 Years Explained "Much of California's water supply is a hidden asset: Deep below the surface, rocks, gravel and sand store water like a sponge, in an underground zone called an aquifer. In dry years, this groundwater has been tapped to save farms, keep grass green and provide drinking water to millions of Californians. But over time, people have taken more water out than nature has put back in. Estimates vary, but according to the U.S. Geological Survey, California pumped 41 trillion gallons of water from the ground in about 100 years, through 2013. In some parts of the Central Valley, that means land has been dropping around a foot a year. The landmark Sustainable Groundwater Management Act, or SGMA, requires some of the state's thirstiest areas form local "Groundwater Sustainability Agencies" and submit long-term plans by Jan. 31 for keeping aquifers healthy. Together, those plans will add up to a big reveal, as groundwater managers finally disclose how badly they believe their aquifers are overdrawn, and a collective picture emerges. It's a major shift and arguably the most important new California water law in 50 years."
Lawrence Livermore National Laboratory released Getting to Neutral, about how California can reach its ambitious greenhouse gas goals with a multibillion-dollar statewide project to remove carbon dioxide directly from the air and extract energy from plant fibers and sewage. The study, commissioned by the ClimateWorks Foundation, presents a vision of infrastructure designed to collect and process agricultural and forest waste, sewage and landfill gas, as well as the commercial deployment of machines that capture carbon dioxide from the air and bury it in geologic formations under the Central Valley.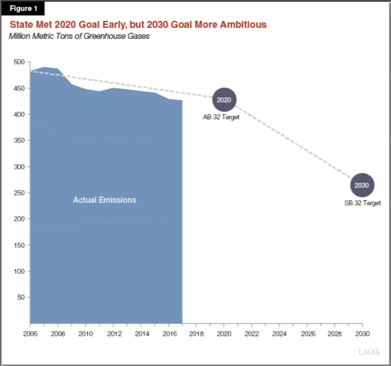 The Legislative Analyst's Office (LAO) released "Assessing California's Climate Policies – Electricity Generation," It finds: "(1) state policies likely are a substantial driver of emission reductions, but the overall reductions attributable to state policies versus other factors is unclear; (2) the Renewable Portfolio Standard (RPS) program is likely a significant driver of emission reductions at relatively moderate costs per ton; (3) rooftop solar policies are generally a more costly emission reduction strategy, but could provide significant benefits in certain instances; (4) relatively little is known about the overall effects of legislation to effectively prohibit coal contracts and the benefits from cap-and-trade; and (5) 'resource shuffling' between different states could potentially offset some of the observed emission reductions."
Public Policy Institute of California released its report, "California's Future," analyzes "state's most pressing long-term policy challenges in several key areas:" climate change; criminal justice; economy; health care; higher education; housing; K-12 education; political landscape; population; safety net; and water.
The LAO has released, "Assessing Vulnerability of State Assets to Climate Change," outlines efforts being made by state departments to assess the potential for severe risks to state facilities posed by climate change, such as sea level rise and more wildfires, finds "several agencies with substantial infrastructure under their control—specifically, the University of California, California State University, judicial branch, and CalFire—have not completed system-wide assessments of their vulnerability to climate change," LAO recommends that the Legislature conduct ongoing oversight of individual state departments for "assessing progress and providing direction."
Speaker's Appointments.
To the California Transportation Commission: Joseph Lyou, Hawthorne, President and CEO of Coalition for Clean Air. Term expires January 1, 2024.
To the California High-Speed Rail Authority: Martha Escutia, Whittier, Vice President of government relation at USC. Pleasure term.
---