March 2019 – Region 9 Reports
---
REGION 9 REPORTS – MARCH 2019 NEWSLETTER
Region 9 Disaster Preparedness Committee Update
By Doug Taylor, P.E., M.ASCE Chair, ASCE Region 9 Disaster Preparedness Committee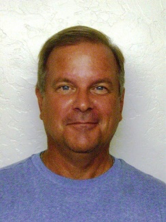 Disaster in Paradise!
In November 2018, twenty-one volunteers from ASCE assisted the Building Official from the town of Paradise to perform rapid inspections of approximately 15,000 homes and commercial properties following the deadliest and most destructive fire in California history.  Long before this fire started, these volunteers had attended a 6-hour training class to become certified as an Evaluator in the Safety Assessment Program (SAP).  What they saw and what they experienced is hard to put into words but every volunteer was glad they could help.
When the next big earthquake hits California, you're going to want to help too… but you can't; unless you first get certified as an Evaluator in the California Governor's Office of Emergency Safety, Cal OES, Safety Assessment Program (SAP).  It's SO EASY to get certified.  The six-hour course is often FREE (or offered for a small charge to cover lunch and meeting room costs) and is provided periodically in areas around the State.  The Certificate is good for FIVE years and then you can renew online… what could be simpler?  To find a class in your area, check the training schedule at the website of the California Office of Emergency Services www.caloes.org and click on their Training Calendar.  Look for an SAP Evaluator training class near you. If you don't find a class in your area, send an email to me saying you're interested and I'll do my best to set one up near you if enough people are interested… dtaylor@outbackmaterials.com.
For more information, the DSW program is further explaned on the "CalOES" website including Frequently Asked Questions. Be prepared for the next disaster and use your Civil Engineering background to help others in need.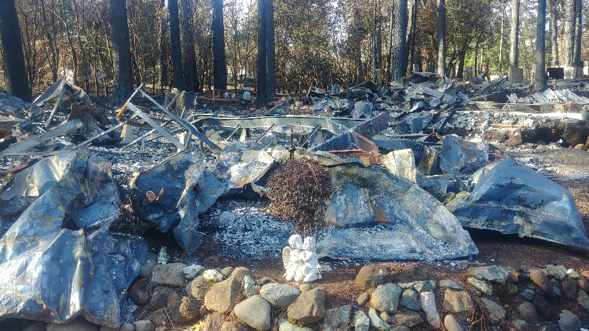 Burned out buildings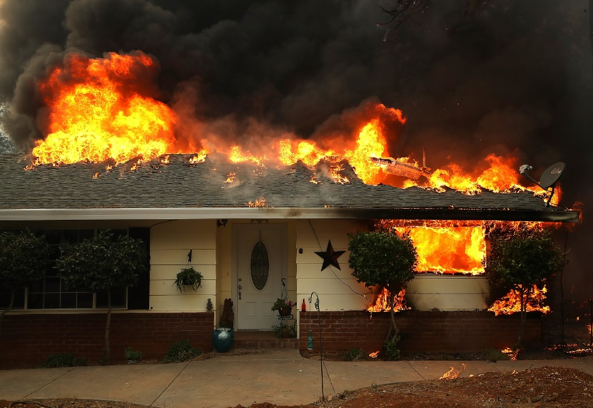 House on fire during the Paradise fire!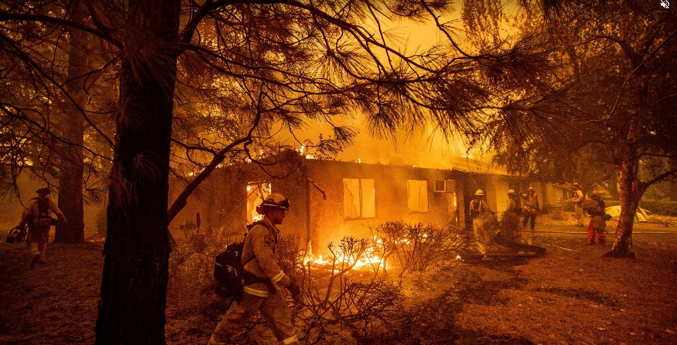 CAL FIRE personnel fighting the fire.
---
California Infrastructure Report Card Scheduled for Release in May 2019
By Tony Akel, P.E., M. ASCE Co-Chair, ASCE Region 9 California Infrastructure Report Card Task Committee

As many of you know, ASCE Region 9 assembled an incredible team of professionals and experts in leadership positions throughout our state, and who for the past year, have been diligently working on developing the California Infrastructure Report Card. This article provides an update on the status, and the scheduled release event in Sacramento in May 2019.


What Infrastructure Categories are being Evaluated? This report card includes an assessment of 17 categories of our state's critical infrastructure including: Aviation, Bridges, Dams, Drinking Water, Energy, Hazardous Waste, Inland Waterways, Levees, Ports, Public Parks, Rail, Roads, Schools, Solid Waste, Stormwater, Transit, and Wastewater. While these categories have been evaluated by ASCE at the National level, this effort focuses the assessment and evaluation on California.
How are we Evaluating the Infrastructure Categories? A team of over 120 dedicated civil and environmental engineers, from around the state, have volunteered their time and expertise to review and analyze existing sources of data, and provide an assessment of the current condition, performance, and funding of our state's infrastructure. It makes me so proud to see so many dedicated teams of civil engineering professionals and experts, volunteer their very valuable time, high skills, and exemplary leadership to promote infrastructure. They are definitely making a big difference in our profession!
What is the Grade? The letter grade, assigned to each category and to the overall report card is, by far, the most effective tool for communicating the general state of our California infrastructure to state and local legislators, as well as to the public. The grade is based on a simple "A through F" school report card format: A" for Exceptional, "B" for Good, "C" for Mediocre, "D" for Poor, and "F" for Failing.
As an example, the 2012 California Infrastructure Report Card included 8 categories, and an overall Grade of "C", which means our state's infrastructure was deemed in mediocre condition back in 2012.
What grades should we expect in the 2019 California Infrastructure Report Card? Though the grades are currently being vetted and finalized by a national team of experts, and will not be disclosed until the release event, the professionals within our industry already know what to expect. Our state's infrastructure renewal and replacement programs have been significantly underfunded for a long time, and while several legislations were implemented over the past decade that successfully increased this funding, a large gap remains.
The 2018 California Surface Transportation Report Card. Many of you know that our Region 9 team expedited the release of 3 transportation categories (Bridges, Roads, and Transit) back in October 2018. At the time, one of the November 2018 California ballot measures was seeking to reverse Senate Bill 1 (SB 1), also known as the Road Repair Accountability Act, and which allocated generating and funding $5.4 billion a year dedicated solely to transportation funding.
The grades for these categories were released as follows: C- for Bridges, D for Roads, and C- for Transit. The full California Surface Transportation Report Card can be downloaded from the following website: https://www.infrastructurereportcard.org/wp-content/uploads/2018/10/ASCEReport-CA.pdf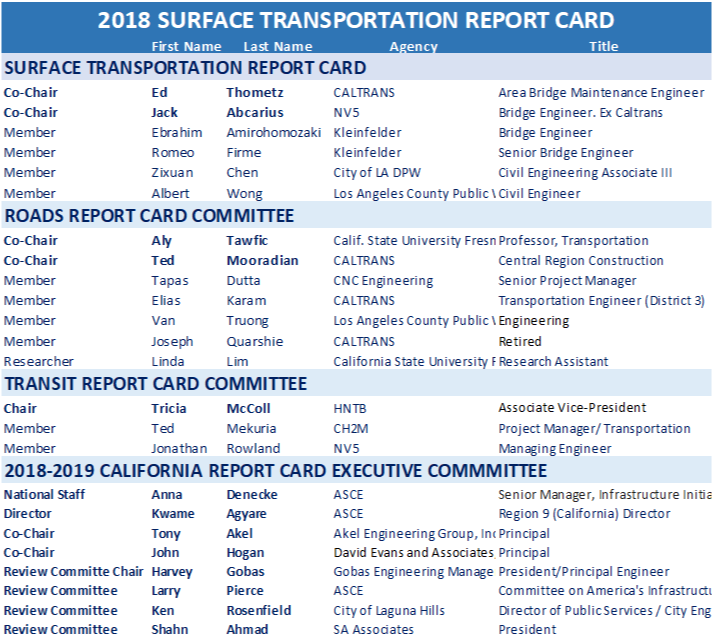 Our thanks go to the champions who worked diligently on developing and publishing these chapters. A Flyer was also prepared for the transportation report card, and is included at the end of this article.
When and Where will the Full Report Card be Released? We are working with ASCE national staff and the national experts in the respective categories to finalize the remaining 14 chapters. The full report card is scheduled for release in early May 2019 in Sacramento. We will be following up with more specific information and a flyer addressing the release date and venue in Sacramento, hoping some of you can join us at this event. In the meantime, we encourage you to join us at another annual event that promotes the California infrastructure: The California Infrastructure Symposium is scheduled for March 29, 2019 in San Diego, information on which can be found at https://caisregion9.org.
For more information about the activities of the Region 9 California Infrastructure Report Card Task Committee, please contact me at takel@akeleng.com.
---
2018 California Surface Transportation Report Card
Click Here to view: 2018 California Surface Transportation Report Card
---