March 2018 – President's Message
---
PRESIDENT'S MESSAGE – MARCH 2018 NEWSLETTER
President's Message
by Nathan Stevens, PE, M.ASCE
President, North Coast Branch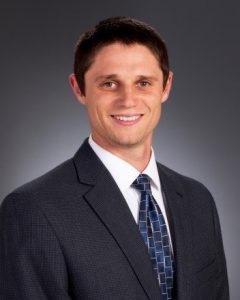 Greetings from the North Coast Branch! It has been an exciting year for the Branch. Fulfilling the commitments and traditions of former North Coast Branch Officers while also developing traditions of our own has been the key objective for the current group of officers. After starting back up in September after our summer break, we have coordinated and enjoyed a number of longstanding activities and traditions, including monthly lunch presentations, our annual Pizza with Professionals event where Humboldt State University (HSU) students and professionals mingle over pizza and beer, and our annual crab feed. We have also coordinated Engineers' Week proclamations with local municipalities, as well as a commercial that aired for Engineers' week highlighting recent local projects. In addition to continuing the traditions of the past, the Branch is also pushing forward with the development of a Younger Members Group (YMG) on the North Coast.
I would like to recognize our Branch Officers for all of the effort they contribute to the Branch. This year's group of Branch Officers includes Cody Long (Director), myself (President), Lianna Winkler-Prins (Treasurer), Tai Morgan-Marbet (Secretary), Michael Layton (Practitioner Advisor), and Michelle Davidson (Multimedia Coordinator/YMG President). New members have also been brought on board to help gain traction with our YMG. This group includes Gavin Zirkel, Austin Corbett, Yaad Rana, Michelle Aldrete, Arrow Walker, and Drew White. The effort put forth by this team has ensured the success of this year's Branch events.
The Branch's annual crab feed, our flagship event, just occurred on February 24th. The event took place at Merryman's Beach House at Moonstone Beach near Trinidad, CA. There was a great turnout of approximately 65 attendees including HSU engineering students, professionals in the community, San Francisco Section President Elizabeth Bialek, and Region 9 Governor Matt Kennedy. The crab was provided and prepared by Murphy's Market out of Trinidad, and the crab were large and delicious. I was informed by past North Coast Branch President Steve Davidson that the Branch Officers used to prepare the crab for the event…sometimes change is a good thing. Beer was provided by ASCE's own Matt Kennedy, whose famous pale ale homebrew has been known to run dry within a half hour of him showing up to the event. A presentation was given by Dagan Short of GHD on the Border Coast Regional Airport Authority Mitigation Project. It was a captivating presentation on wetland and environmentally sensitive habitat area (ESHA) establishment, restoration, and preservation to mitigate the taking of wetlands for a project that occurred at the Crescent City Airport. The crab feed is always a fantastic event, and it truly captured the essence of the North Coast: community, friendly people, natural beauty, crab, and beer. And rain.
The Branch has a couple final events planned to finish off the year before we break for the summer: mock interviews for HSU engineering students with local firms and agencies in March, and our annual awards banquet in April (date still to be determined), at which the much anticipated North Coast Branch Project and Engineer of the year will be awarded. So stay tuned!
Nathan Stevens, PE, M.ASCE
President, North Coast Branch
---