June 2017 – President's Message
---
PRESIDENT'S MESSAGE – JUNE 2017 NEWSLETTER
President's Message
by Benjamin Holton, P.E., M. ASCE,  Fresno Branch President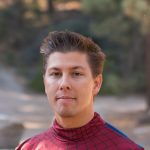 I find myself fortunate to be able to express my thoughts after reflecting on the changes these past few years have brought to our Fresno Branch, our generous San Francisco Section, and our Region.  In the increasingly complex and engaging career path we've chosen, the time it takes to dedicate to our altruistic organization grows harder to come by each day.
Although I'm provided only a brief glimpse into the full workings of our society, what I have witnessed within the Section and Branch activities with the continued growth of our younger groups has been amazing.  There is an eagerness and a tenacity that exists which is just now starting to see the light of day, and examples of the burgeoning connections being established and widened to maintain the flow of knowledge and talent from each of our younger groups to within the Section and Region are increasing with each passing term.  The creation of the YMF Director position, informally established by Ms. Rachel Coyner, and the voice it lends to those younger groups has been pivotal in understanding the needs and resources required to invite all our groups to flourish.
Many of you may not realize the luxury we have enjoyed in Fresno of being a more isolated community with a simple path through each of the tiers of our society.  From our one University to our local YMF and on into our Parent Branch, we find ourselves in a unique environment which is large enough to maintain a diverse group of individuals and specialties, yet small enough that there isn't more than two degrees of separation from anyone in our engineering community.  With such conduits for information in place, we are seeing that in the absence of the perceived partitions that can exist elsewhere, there is an increased thirst for this knowledge between us.  It is perhaps the most prudent thing that we must strive to do, to nurture this aggressively inquisitive nature within ourselves and our younger colleagues.
By your decision to contribute to our society, which you are doing even now as you read this, we have set upon ourselves the blessing and the burden to enlighten.  The endlessly dwindling resource that binds us together in this, our page of history, is not easily given, however, it is critical to the growth of our members, their knowledge base, and the continued success of our society.  I implore each of you to continue to enrich yourselves by sacrificing such time to engage your student groups, your younger members, and your parent branches.  Attend events at all levels.  Establish events that will engage and enlighten.  As president of our Fresno Branch and YMF, I found it crucial to encourage anyone within an idea to set it forth.  Many times, the idea in the minds of the individual seemed inconsequential, but on a stage that invited inspiration the evaluation stemming from peer review has blossomed into some of our more popular events.  Our reward is only as strong as the effort we put forth and recall; farmers do not establish an orchard to enjoy its bounty that day.
Let me leave this opportunity of expressed reflection with a quotation of an alternate notion.  Befitting of the times, although it was drafted over 60 years ago, it was included in one of Albert Einstein's last manuscripts, "People who fail to regard the truth seriously in small matters, cannot be trusted in matters that are great."
Sincerely,
Benjamin Holton, P.E., M. ASCE
---