January 2020 – Region 9 Reports
---
REGION 9 REPORTS – JANUARY 2020 NEWSLETTER
Region 9 History & Heritage Committee Update

Chuck Spinks, P.E., M. ASCE
Chair, Region 9 History & Heritage Committee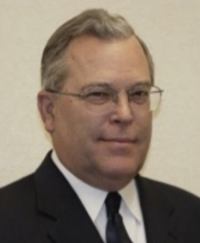 This past year has been a banner year for civil engineering history buffs, with the celebration of the 150th anniversary of the completion of the first transcontinental railroad being the highlight.  The Railroad History Symposium held in Sacramento in May was a great success and was attended by ASCE members from across the United States.  The Symposium included sessions on the construction of the railroad and the civil engineers that led the construction.  The event was sponsored by the Society History & Heritage Committee and by the Sacramento Section.
| | |
| --- | --- |
|   | |
| 2019-2020 ASCE President Guna Gunalan opening the Symposium. | Professor J. David Rogers presents his paper on Theodore Judah, the Central Pacific's Chief Engineer |
Here in California, the big 2020 ASCE event will be ASCE's Annual Convention in Anaheim from October 28 to 31.  Typically, some of the best attended sessions at the Convention are the History & Heritage topics.  The 2020 Convention will highlight projects in Southern California, including the 7 National Historic Civil Engineering Landmarks (NHCEL) in the Los Angeles and San Diego Sections.  The 7 NHCELs are: All American Canal; Arroyo Seco Parkway; Colorado River Aqueduct; Owens River-Los Angeles Aqueduct; Sweetwater Dam; Tehachapi Loop; Tustin Blimp Hangars.
The Conference History & Heritage topics will include:
Landmark and other historically significant projects.
Major historic civil engineering events.
Biographies of prominent civil engineers.
Historic projects with lasting significance and relevance to modern practice.
If you have a special interest in any of these topics and want to be a part of this Conference here in our Region, please submit an abstract for a presentation at the conference. The abstracts are due by January 9th, with information on the ASCE Conference website: https://www.asceconvention.org/call-submissions  .
A History & Heritage activity that will continue in 2020 is the research and cataloging of all the Civil Engineering Landmarks in Region 9, including National, Region, and Local landmarks.  We are looking for assistance from Section and Branch members to visit civil engineering landmark sites, take photographs, and fill out a Site Visit Form for each landmark.
We are also looking to identify new potential Historic Civil Engineering Landmarks, particularly sites that would qualify as National Landmarks.  If you have any suggested projects for new landmark recognition, please contact me: chuck.spinks@outlook.com .
---
Cal OES Safety Assessment Program
the Camp Fire, Butte County

by John Kilps, P.E., M.ASCE
Region 9 Disaster Preparedness Committee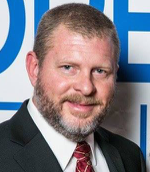 ASCE members serve as evaluators in the California Office of Emergency Services Safety Assessment Program (SAP), to assist in assessment of homes, structures, and other infrastructure in the aftermath of disasters. ASCE is one of the primary professional societies that sponsor training courses, and provide experienced professionals to quickly evaluate damaged structures and determine if they are safe for occupancy. The SAP program was formed initially for California earthquakes. The program has developed and expanded over the years, in addition to several earthquakes, was also used successfully in response to Hurricane Katrina.
While California is arguably in an "earthquake drought", the SAP program is now being used in major California wildfires.  There is an unmistakable trend of increasingly frequent and large wildfires in California over the past 20 years. One of those incidents was the 2018 Camp Fire in Butte County.  Driven by high wind and dry conditions, the Camp Fire was an extremely rapid fire that started the morning of November 8, 2018, and destroyed the Town of Paradise within 6 hours. More than 18,800 buildings were destroyed, which is more than the previous 9 major California wildfires combined. The fire caused 85 civilian casualties, and was the deadliest and most destructive wildfire in California history.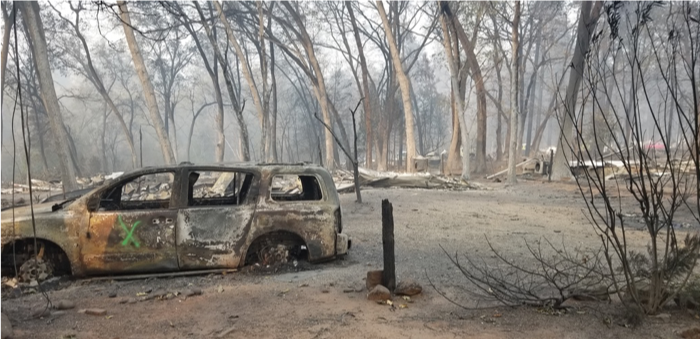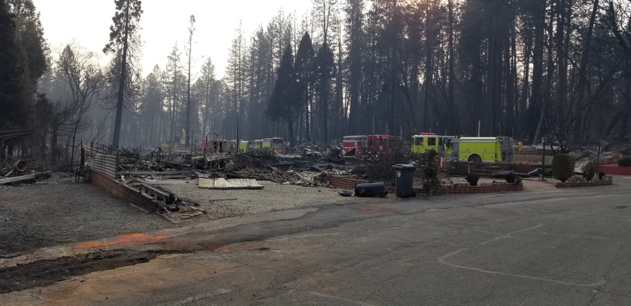 In the aftermath of the Camp Fire, an evacuation order remained in effect in Paradise. The evacuees were waiting, many camped outside a Walmart in Chico, waiting for assessment of their homes.  Assessment of all structures in Paradise would be an extensive task. Requests for SAP evaluators were sent. Upon confirmation from Cal OES, volunteer evaluators deployed to the emergency operations center at the City of Chico. The City of Chico Building Inspector, Mr. Tony Lindsey, coordinated the assessment effort. Regrettably, Mr. Lindsey's home was lost in the fire.
Safety of SAP evaluators is a top priority. In safety briefings, evaluators were instructed to keep away from smoldering "hot spots", and carefully step through damage areas. Overhead hazards are a concern. Paradise is located within a forest of ponderosa pine trees more than 100 feet tall. Many of the trees were damaged by the fire and falling. Damaged trees near homes and structures were to be identified and reported.
There were a total of 20 evaluators in our group. Another group of evaluators had already completed assessment of thousands of structures a week before us. Our group was to pick-up where they left off. We formed teams of two and mobilized up the mountain to Paradise. As we arrived, burned-out cars were seen alongside the road. They had been caught in gridlock trying to evacuate the fire.
Paradise Town Hall was saved by firefighters, and we arrived there for a logistical meeting. The town hall had a generator for electricity. Tools and materials were distributed there, and maps of areas to be assessed were reviewed.
Each evaluator was given a tablet loaded with GIS software to record assessment reports . The tablets were user-friendly, and greatly increased the efficiency of completing large quantities of assessments. Rain the first day made it difficult to keep the tablets dry, and caused them to glitch. Cellular service was spotty, which also affected the tablets. The weather cleared up the next day, and cellular service was restored. The GIS database continually updated, allowing users to see assessment reports of other evaluators in real-time, helping to avoid redundant assessments.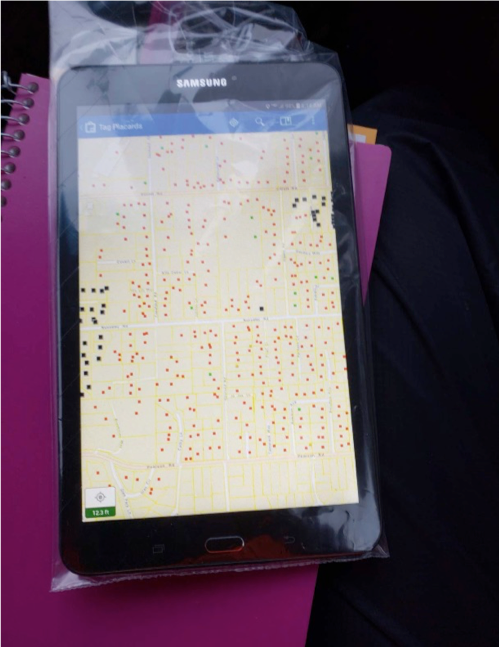 Although rain slowed our progress the first day, it also helped extinguish what remained of the fire, and cleared the air of smoke for improved breathing.  A majority of homes and structures were completely burned to the ground. The fire was peculiar, leaving single homes seemingly untouched in the middle of completely destroyed neighborhoods. Homes and structures that were not destroyed required more extensive assessment to determine if they were safe for occupancy.  Assessments were completed by our 4th day. Some Town of Paradise employees participated in assessments the last day for training purposes.
Local agencies and utilities are investigating the cause of the fire, and how prevention can be improved. As California deals with climate change and its effects, the SAP program continues to adapt and improve to assist in all kinds of disasters.  Thank you to ASCE Region 9 Disaster Preparedness Chair, Doug Taylor, and Cal OES, for continued progress and development of the SAP Program.
---