December 2020 – Region 9 Reports
---
REGION 9 REPORTS – DECEMBER 2020 NEWSLETTER
Region 9 Younger Member Forum (YMF) Council Update
by Guy Hopes, P.E., M.ASCE Chair, ASCE Region 9 YMF Council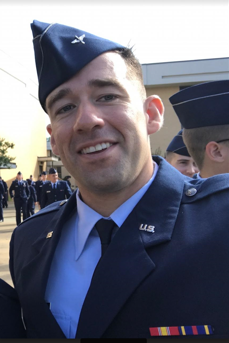 The Region 9 YMF Council Update
It's fall again and season's greetings from the Region 9 YMF Council! The Region 9 YMF Council comprises leaders from each Sections in Region 9 (San Diego, Los Angeles, San Francisco and Sacramento), and the Council meets regularly to update each other on multiple topics including: ongoing activities, communications with universities, ASCE strategic initiatives, and opportunities for collaboration. We have been growing, allowing multiple representatives from each Section to take part. If you or a colleague are interested in sitting on the Council, please reach out to Guy Hopes; there's room at the table for all!
ASCE membership provides many benefits and opportunities to its members in all the membership classifications (student, associate, member, fellow, etc.).  Younger Members (members at and under the age of 35) are a significant part of ASCE, and many Sections and Branches have set up Younger Member Forums (YMFs) to encourage younger member involvement within each Region, see Figure 1 below showing the types of members within the Younger Members classification in 2020.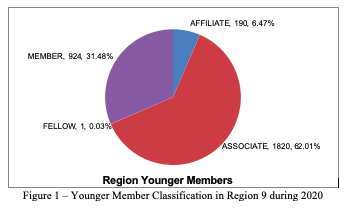 During my ten (has it been that long??) years of experience with the YMF in Region 9, I have had countless opportunities to meet leaders from around the globe and be a part of many impactful projects and initiatives that help the engineering community.  I also travel a great deal for work, and I am fortunate to have a whole network of young professionals in many of the cities I travel to for projects.  Our role in ASCE as Younger Members (YMs) is vital to the future of ASCE. The Region 9 YMF Council's goal is to help improve overall communication among younger members and to promote collaboration.  As Chair of the Council, I have seen these leaders further these goals in Region 9 and even reach out to other Regions nearby!
Taking a look back at last year, the Council completed and submitted bylaws establishing itself as a formal council within Region 9. The Council is also reviewing and updating the Best Practices Guide that has the following topics for YMs around Region 9:
Virtual meeting ideas and distanced event considerations for member engagement;
Guidance for Traveling Younger Members and connections to nearby groups;
Communications to universities and recruitment;
Championing ASCE Society and Region 9 initiatives to the community; and
Updating the Best Practices for each Younger Member Group.
The Council has been meeting regularly; focusing on communications between Region 9 and the YMs.  Some of the goals we are continuing to foster are:
Providing a link between 12 Younger Member Groups and the Region 9 Board of Governors;
Facilitating student transition within the Region; and
Serving as a resource for traveling/relocating YMs in and out of the Region.
When the Council Bylaws and Best Management Guide is updated in the coming year, it will be distributed it to the members, the Society database and then publicized at the upcoming large ASCE conferences.  Additionally, the Council plans to reach out to multiple Student Groups and promote formations of email address, and even officer position creation, which will enable YMF's to reach out more consistently. As we grow as professionals, let us continue to reach back and help the others around us as they come up, much like the professionals who have helped us. A lot of kind folks in and out of the organization got me where I am today and it's my honor and pleasure to continue with that service mindset to further our great profession, despite these trying times.
Whether you have taken a little break from ASCE, or attend meetings infrequently, or are a Board Member of your local YMF (wearing multiple hats and taking on multiple projects), your input is important, we want to hear from you and our Council needs engagement to continue to serve.  Please do not hesitate to reach out to me if you have any additional ideas to help improve Region 9 YMFs.
For more information, contact Guy Hopes, Chair, ASCE Region 9 YMF Council, at ghopes53@gmail.com
---
Region 9 History & Heritage Committee Update

by Chuck Spinks, P.E., M. ASCE
Chair, Region 9 History & Heritage Committee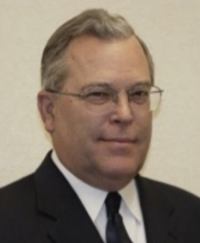 If you are looking for something to do in your free time that will get you out of the house and allows for plenty of social distancing, why not visit some of the Historic Civil Engineering Landmarks (HCELs) across the state?  There are more than 100 HCELs in California. Whatever your interest…bridges, railroads, aqueducts, dams, buildings…almost anything designed by civil engineers has been designated as a Landmark (if it is more than 50 years old).
To locate the HCELs near you, Region 9 has a fabulous website prepared by the History & Heritage Committee Vice Chair Andy Machen:
https://www.asceregion9historyandheritage.net/
The site includes lists of all of the Region 9 National and local HCELs, as well as interactive maps and copies of Historic Civil Engineering Landmark booklets prepared by the Sections. Your input would be appreciated in identifying any landmarks that have been missed through the forum section. Also, please provide suggestions on how the website could be improved using the suggestion box on the website.
You will also help the Society by visiting the HCEL sites. The Society History & Heritage Committee has an on-going program of cataloging all of the HCELs across the US. The first goal was visiting and photographing all of the National HCEL plaques, which is almost complete. The next step is visiting the local HCELs and confirming the location and condition of the HCEL plaques. Many of the local plaques are missing or damaged or in locations not accessible by the public. Collecting information on the plaques will help us determine which plaques need to be replaced, relocated, or cleaned.
Another effort we are pursuing is identifying new potential Historic Civil Engineering Landmarks. There are many unrecognized but significant civil engineering projects in California. Maybe it is a local HCEL that is significant enough to receive a National award. Anniversaries are a good theme for new National HCELs to be adopted, which is accomplished by looking back at what was constructed, for example 50, 75, or 100 years ago. Sacramento Section will be celebrating 100 years in 2022, which would be a great year to have some NHCEL award ceremonies. If you some ideas for HCEL awards, contact your Sections. The History & Heritage Chairs for the four California Sections are: Charlie Kavanagh with the San Francisco Section; Thor Larson for the Sacramento Section; William Lawson for the Los Angeles Section; Philip Kern with the San Diego Section.
---