December 2019 President's Message
---
A Word from the ASCE San Francisco Section President – DECEMBER 2019 NEWSLETTER
President's Message
As we already enter the third month of our fiscal year, we continue to make good strides.  Through our section's active and enthusiastic leadership of our branches, YMFs, and technical institutes, we continue to provide our membership a variety of technical presentations, technical tours, social events, and community service opportunities.  But as a wise philosopher once said, "good is the nemesis of great", and I look forward to your ASCE San Francisco Section going from good to great.
I believe your Section's leadership can and will provide the path for our greatness.  We have a balance of veteran and new blood of experienced and enthusiastic board of directors, individuals that have already made great strides with their leadership of a branch, YMF, or institute.  Over the past two months, we have been working on our strategic plan for the fiscal year, but as another great philosopher said, "the devil is in the detail", and we are developing as such.
Through my years of experience, any organization that I have seen become great,  only does so directly from the active participation of its membership.  An organization's leadership can layout the most extensive strategic plan, but without member participation, the plan is moot.  I encourage you to be actively involved with your local branch, YMF and the niche arenas of your technical institutes.  In doing so, you make them stronger, lending itself to making our Section all the more strong, vibrant, and great!
If you ever have any questions, concerns, or comments, please do not hesitate to reach out to me directly at thometz@seisf.org.
Wishing you a very safe and Happy Holidays!
With Kind Regards,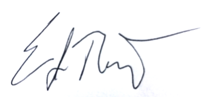 Edward J. Thometz, P.E. M.ASCE
President, ASCE San Francisco Section
---