Upcoming events
Holloway Green Street Walking Tour
November 2nd, 12:00-1:30pm
Location: Intersection of Holloway and Grenada, San Francisco
Tour Guide: Mike Adamow, SFPUC
Join the ASCE Sustainability Committee on a walking tour of the Holloway Green Street project, led by Mike Adamow of SFPUC. With its ribbon cutting held on August 18th, 2017, Holloway Street is one of the first of eight projects completed as part of SFPUC's Sewer System Improvement Program. Eight blocks of Holloway Street's public-right-of-way have been rebuilt with pervious concrete parking lanes and rain gardens that will manage nearly 1 million gallons of stormwater annually. This is also the first application in Northern California of pervious concrete in the public-right-of-way. During the walking tour Mike will discuss the goals of the project, design details and lessons learned.
This tour will go rain or shine, because if it rains we will get to see the green infrastructure system in action!
Mike Adamow's Bio
After a successful 17 year career in the heavy/civil and landscape construction industries, Mike returned to school and completed Temple University's Community & Regional Planning program in 2011. Following a move from Philadelphia to the west coast, Mike joined the San Francisco Public Utilities Commission's (SFPUC) Urban Watershed Management Program as a Green Infrastructure (GI) Planning Specialist. In his role at the SFPUC, Mike is responsible for developing a GI construction training program and a GI maintenance and asset management program, conducts GI Quality Assurance inspections/observations for capital GI projects, completes GI constructability reviews for capital projects, manages professional service consultant contracts, and supports the administration of the San Francisco Stormwater Management Ordinance.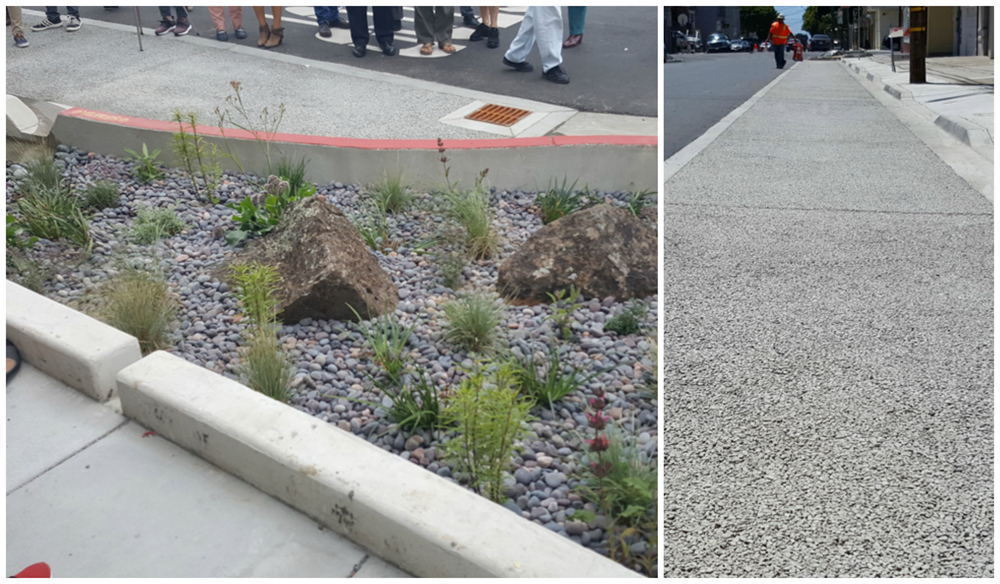 ---
Join us for out monthly sustainability calls:
Every 3rd Wednesday, 5-6pm.
Call in info: Dial in (515) 739-1030, Access Code 882-902-281
The Sustainability Committee is busy organizing the following sustainability tours for 2017, join our email list to receive details and event announcements.
Sustainable Water Infrastructure tour – Berkeley
Holloway Green Streets – San Francisco
California Academy of Sciences – San Francisco
Sustainable Winery tour and tasting – Livermore
Transbay Roof Deck tour – San Francisco
If you have an idea for a sustainability tour or event, please contact our committee chair, Rachael Keish
Vision
The ASCE San Francisco Section Sustainability Committee is an agent for enhancing our community and our quality of life through environmentally, socially, and economically responsible civil engineering practices within the San Francisco Section in a manner consistent with the purposes of ASCE.
Mission Statement
The ASCE San Francisco Section Sustainability Committee will:
Promote, practice, and advocate sustainability principles through professional development, innovation, and outreach activities within the San Francisco Section.
Lead the civil engineering community in the San Francisco Section to become practitioners of sustainable civil engineering principles and practices.
Generate ideas and to identify potential opportunities and strategies that will expand and enhance the leadership role of ASCE San Francisco Section in advancing science, engineering and technology and in building capacity for sustainable development in a local perspective.
Use partnerships and coalition building opportunities that will promote and encourage sustainable engineering education and practice.
Help us – Get Involved
The Sustainability Committee currently meets monthly by teleconference on the third Wednesday of the month from 5PM to 6PM Pacific Time.  Please contact the current Chair, Rachel Keish, at rachael@keish-environmental.com for details and to be added to the committee's email list.
The Sustainability Committee is continually seeking new individuals and partner organizations to join our mission.  To successfully bring sustainability into the forefront of civil engineering there must be a collaborative effort that includes stakeholders and practitioners at all levels of development.