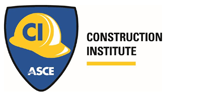 Chair
Kerry Morgan
BART
510-287-4815
Vice-Chair
Karim Massoud
Granite Construction
408-327-7010
Treasurer
Corey T. Dare
GEOSPHERE
Consultants, Inc.
925-314-7180
Secretary
Douglas Higashi
EBMUD
510-287-1677
Scholarships
Frank Sana
VSCE, Inc.
510-589-2618
SF Construction Institute
Construction Institute
Construction Institute Dinner Meeting
Oroville Spillways Emergency Recovery:
Challenges and Progress Highlights
 Tuesday, March 20th, 2018
Peony Seafood Restaurant, Oakland
Speakers:
Jeff Petersen | Project Director | Kiewit
Todd Orbus | Deputy Project Director | Kiewit
Beginning April 17, 2017, nearly two months after the Lake Oroville spillways were compromised, Kiewit, the California Department of Water Resources (DWR), the Federal Energy Regulatory Commission (FERC) and other dam safety agencies began working to have a functional 3,000-foot spillway in place by Nov. 1st.  Kiewit began work on the damaged main spillway May 21st leaving 165 days to complete the first phase of the repair. The repair consisted of patching and reinforced the top 730 feet of the spillway in 2017, replacing an 870-foot section of the upper chute and 350 feet of the lower chute to final design. Filling two large scour holes in with Roller Compacted Concrete RCC and constructing a 1,050-foot temporary middle section to ensure the spillway could safely handle flows of 100,000 cubic feet per second (cfs). Join us at our dinner meeting on March 20 in Oakland and hear from Jeff Petersen and Todd Orbus of Kiewit discuss the construction challenges and highlight progress on this massive project.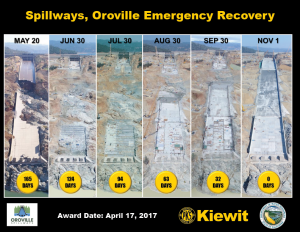 To sign up, contact Doug Higashi at 510-287-1677 or click this link to register.