April 2018 – President's Message
---
PRESIDENT'S MESSAGE – APRIL 2018 NEWSLETTER
President's Message
by Eric Wade, P.E.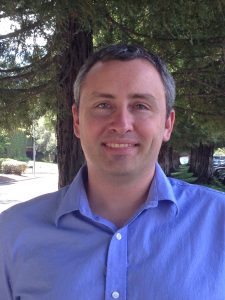 America's first agricultural preserve reaches its 50th Anniversary this year. Designed to protect the Napa Valley growing region it has safeguarded the North Bay Area wine industry and along with other land use initiatives in Napa, Sonoma County and beyond have set the stage for the area's recycled water projects.
The Napa County Board of Supervisors and Planning Commission approved the Ag Preserve in 1968 following a contentious debate.  In the mid 60's there were substantial changes being made in the State's regulatory framework with respect to agriculture. The passage of AB 80 required land to be assessed based on comparable nearby property sales.  In response to this, the California Land Conservation Act was passed, led by John Williamson. With the knowledge that the State was in support of these land use policies, County leaders moved forward to pass measures to protect the fertile valley and foothill areas as agricultural land. Jim Hickey, former Napa County Planning Director for two decades, was a key supporter of the Ag Preserve. Mr. Hickey wrote, "I would like to see the [Ag Preserve] last. I know it will not, but the ideas it contains will endure. It is easy to destroy a plan, but an idea, once implanted, has roots no man can destroy." Ideas can transform the way we think and live, and can result in policies that shape the built environment.
Without the rules that have guided development in an orderly fashion, and the wine industry could have looked a lot different without them. An earlier plan for the Napa Valley that did not succeed has the entire valley floor between Napa and Calistoga divided up into thousands of 1 to 5 acre "ranchettes". The Ag Preserve zoning requires parcels to be a minimum of 40 acres, with newer Agricultural Watershed zoning requires parcels to be a minimum of 160 acres. The smaller parcels would certainly have changed the wine industry.  Measure J in 1990 and its successor Measure P in 2008 in Napa County locked in the general plan land designations through 2058 and made changes to the designation changeable either by a popular vote or by annexation to a City.  Sonoma County voters approved measures A and C to create the Sonoma County Agricultural Preservation and Open Space District and enable a quarter-cent sales tax to fund operations to protect the greenbelts, scenic viewsheds, farms and ranches and natural areas of Sonoma County. In 2006, with 76% of the vote, Sonoma County residents approved Measure F to extend the quarter-cent sales tax through 2031.Each center is dormitory-style lodging, and residents get three meals a day, literacy, and other training programs. Napa County is California's only provider of farmworker housing fully funded by occupant rent and the industry in partnership with local housing funds.The wine industry has had a total economic impact of more than $13 billion on Napa County's economy, $26 billion on the California economy, and $50 billion on the American economy, according to the 2012 Stonebridge reportThe wine industry has had a total economic impact of more than $13 billion on Napa County's economy, $26 billion on the California economy, and $50 billion on the American economy, according to the 2012 Stonebridge report.
The Napa, Sonoma, Mendocino, and Lake County wine industries form the backbone of their respective local economies, with farmworkers playing an important role in creating and sustaining agricultural production. Napa County supports agricultural workers in many ways including literacy, schooling programs, and managing some farmworker housing. More needs to be done to protect farmworkers from exposure to pesticides and ensuring fair treatment and overtime pay. Sonoma County has made good strides by a campaign to have all local vineyards certified as sustainable. 70% of Sonoma County vineyards and 40% of Napa County vineyards are now certified with similar numbers for Mendocino and Lake Counties. This certification includes restrictions on certain types of pesticides and encourages other safety measures.
The legacy of the Ag Preserve has allowed the wine industry to develop into what it is today. The history of how it was established highlights how motivated individuals can support smart land use policies and develop infrastructure that has lasting benefits to the economy.  Local governments are also taking the lead in keeping the Ag Preserve's legacy by making use of State and Federal funding to complete recycled water projects.
That affects Property, Sales, and Transient Occupancy taxes, employment, charity, and tourism.
Following the success of Lake County in the 70's And 80's deliver treated water to the Geysers, Santa Rosa completed one of the largest recycled water systems in the world supplying agricultural lands, public and private urban landscaping and to generate electricity for the Geysers recharge project. Rohnert Park followed soon after. Healdsburg, Windsor, and the City of Sonoma along with the Sonoma County Water Agency and others are all doing their part to develop recycled water infrastructure. The Napa Sanitation District has recently completed $50 million in projects in the last few years to provide recycled water for vineyard, orchard, and pasture irrigation. Over 25 miles of pipelines have been built in Napa's new system, and more connections are being made to add customers. This network of pipes delivers water to the groundwater deficient Coombsville and the Carneros area by the San Pablo Bay. In addition to providing relief during drought conditions, the reduction in demand on groundwater wells helps reduce saltwater intrusion from the bay.
Agricultural lands are worth saving as they are central to our vibrant local economy, and we, as engineers and planners, are now tasked with finding solutions to continue to preserve agricultural lands in a changing climate. To encourage this innovation ASCE fully supports sustainability through its infrastructure report cards, the Envision rating system, infrastructure policy reports, and so much more. I hope you can join us by celebrating these milestones and reflecting on the efforts of those who work so hard for a bright future.
Sincerely,
Eric Wade
---