Dream Big ASCE San Francisco Section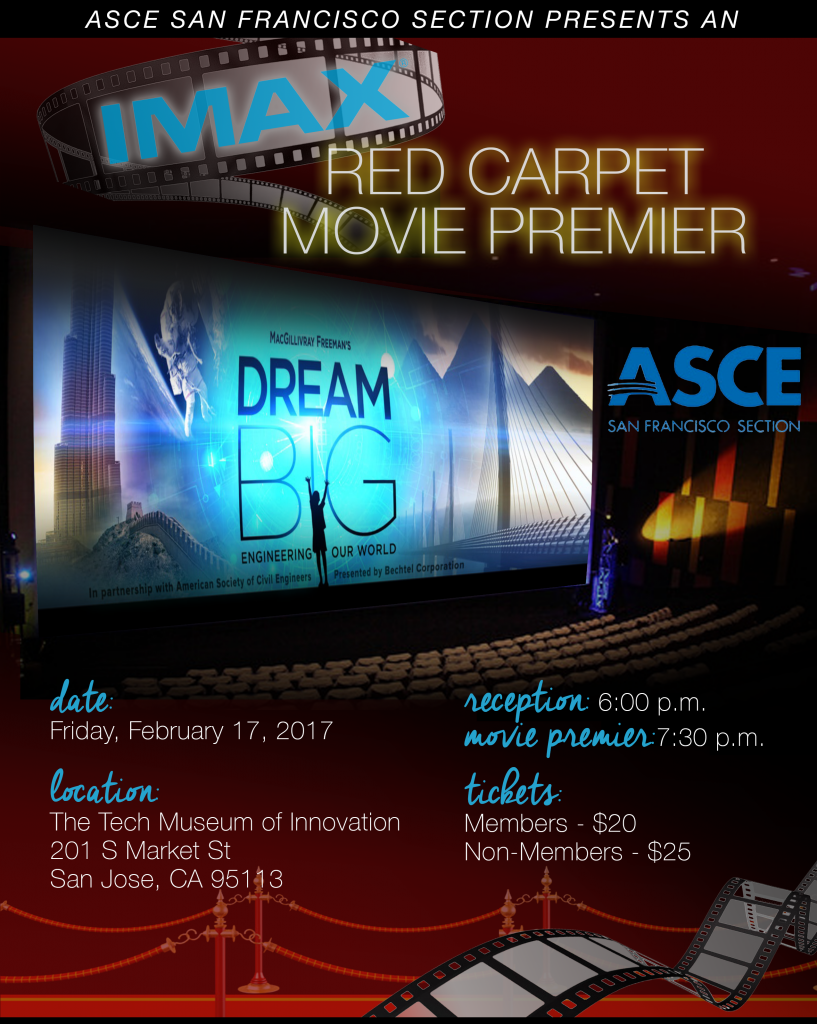 Thank you to our sponsors!
Platinum:

The ASCE San Francisco Section is excited to kick off Engineer's Week and our Dream Big Student Outreach Program with a Red Carpet Premier of Dream Big: Engineering Our World.  Dream Big is a giant-screen film about engineering that will take viewers on a journey of discovery and show audiences how engineers are developing the world of tomorrow. The premier is an opportunity to network with other industry professionals, celebrate the industry and the innovation that continues to bring society to new heights, and to inspire a new generation to reach for the stars in an industry that is at the center of our world.
This IMAX film featuring amazing engineering projects, along with forward-thinking and compassionate engineers is produced for all ages. A great event to spread the word and consider supporting this special Bay Area Premier with one of the unique sponsorship opportunities that are available.
ASCE has secured private access to the San Jose Tech Museum (https://www.thetech.org/) for this event.  Prior to the movie screening you will be able to enjoy the exhibits in The Silicon Valley Innovation Gallery. The gallery showcases the amazing range of Silicon Valley innovation and creativity – technologies that shape how the world creates, communicates, lives, works and plays.  Some of the exhibits include:
Reface – lets visitors dynamically combine images in ways that are often funny and sometimes strange.
Social Circles – promotes social encounters through playful interaction.
Reactable, – lets visitors experiment with a revolutionary electronic instrument to create new music.
Doors open at 5:30PM with hors d'oeuvrees and the Movie Premier beginning at 7:30PM.
Watch the trailer HERE!