Newsletters
Volume 2 Number 1 (Spring 2018)
Volume 1 Number 1 (Spring 2017)
Phoebe Cheng, Chair
Vladimir Calugaru, Vice Chair
Edward J. Thometz, Past Chair
Anna (Teplitskaya) Vongsing, Secretary
Brian Kehoe, Technical Director
Shanshan Wang, Technical Director
Francisco Medina, Technical Director
Mark Bird, Treasurer
Amin Ghafooripour, Outreach Director
Jeffrey S. Falero, Historian
* Vacant Board Positions *
---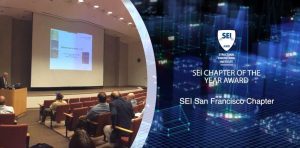 "SEI San Francisco Chapter has been selected to receive the 2019 SEI Chapter of the Year Award in recognition of its exemplary activities and efforts to advance the structural engineering profession"
— David Cocke, S.E., F.SEI, F.ASCE, SEI President
---
Engineering Applications of Unmanned Aircraft Systems

With the advent of reliable small unmanned aircraft systems (sUAS), commonly referred to as "drones", a number of industries are now capitalizing on the commercial potential of these devices previously marketed for aviation hobbyists and panoramic "selfie" seekers. The size, access limitations, and potential hazards of many active construction sites and existing buildings provide ample opportunity for the implementation of sUAS for data collection. This presentation will summarize currently available technology, regulatory hurdles, and practical applications and limitations of sUAS technology to the engineering and construction fields. The presentation will conclude with brief case studies demonstrating the use of sUAS for engineering data collection on existing and historic structures.
Robert Kraus, P.E., a Senior Associate at Wiss, Janney, Elstner Associates (WJE) in Emeryville, California will present drone applications for structural engineers. As a FAA Part 61 and Part 107 pilot, Mr. Kraus increasingly relies on sUAS among other technologies to overcome the challenges of data collection on existing structures, including those in varying states of distress or failure.
More information and Register Now!
---

The Premier Event for Orthotropic Bridge Collaboration
Continuing as a joint collaboration between Industry and Academia, the Structural Engineering Institute (SEI) of the American Society of Civil Engineers (ASCE), San Francisco Chapter is privileged to host the 5OBC in partnership with Santa Clara University and the Capital Branch of the ASCE Sacramento Section.
The 5OBC encompasses the interests of bridge owners, contractors, designers, researchers, maintenance personnel, and vendors involved with orthotropic bridges. Building upon previous orthotropic bridge conferences, we have added new topics to the 5OBC, including Orthotropic System for Non-Bridge Structures (e.g. Marine, Offshore, Terrestrial or Extraterrestrial structures) and Use of Orthotropic Concept for Non-Steel Materials (e.g. Aluminum, Carbon fiber, etc.).
Please visit the conference website (www.5obc.org) for detailed information on Abstract Submissions, Program Schedule, and Registration information.
To subscribe to our 5OBC email list and receive conference program updates and other conference information, please subscribe here.
---

---
Chapter Introduction
Mission
To serve and promote the structural engineering profession within the San Francisco Bay Area in a manner consistent with the purpose of the Structural Engineering Institute (SEI) of the American Society of Civil Engineers (ASCE).
Vision
Inspire and advance the art and practice of structural engineering, develop and implement programs to enhance knowledge exchange, networking, and other professional development and educational outreach activities.
Chapter Bylaws
SEI-SF Bylaws 2016-04-12 (r1.6)
SEI Information
Established in 1996, SEI advances our members' careers, stimulates technological advancement, and improves professional practice. SEI drives the practical application of cutting edge research by improving coordination and understanding between academia and practicing engineers.  The San Francisco Chapter of ASCE SEI was founded in 2014.
If you have inquires or are interested in joining, please contact us at info@seisf.org.
To subscribe to our email list and receive our news and event updates, please subscribe here.
SEI SF Home | Board of Directors | Goals | Past Events |