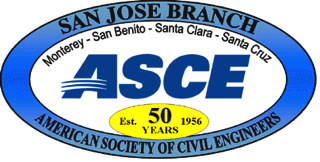 | | |
| --- | --- |
| Director | Ben Nguyen, P.E. |
| President | Deric Weis, P.E. |
| Past President | Ben Nguyen, P.E. |
| Vice-President | Barton Ching, P.E. |
| Secretary | Alana Guzzetta, P.E. |
| Treasurer | Diana Lin, E.I.T. |
| Assistant Treasurer | Peter Park, P.E. |
The San Jose Branch was established in 1956 as a local branch of the San Francisco Section. ASCE members who reside or work in Santa Cruz, Santa Clara, San Benito, or Monterey Counties are automatically established as members of the Branch.
Branch activities kick-off in October at the beginning of each financial year that include:
Monthly lunch meetings in the downtown San Jose area
Annual Coastal meeting in Santa Cruz for our members in Santa Cruz and Monterey area
Annual Scholarship Essay Contest
Officer Induction Ceremony.
Recent Branch efforts have led to the revival of Monterey Branch Organizaing Committee aimed at establishing a new Branch serving the civil engineering community in Monterey Bay area.
ASCE members and non-members are welcome to attend any event, which usually features local civil engineering topics or projects. Recent presentations
consisted of Highway 101 Improvements, self-anchored suspension SF
Bay Bridge and BART extension projects.